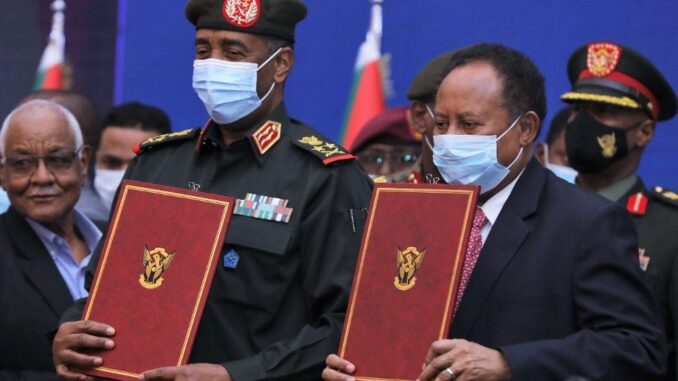 Prime Minister Abdallah Hamdok, who was ousted during the military coup in Sudan, regained his post on Sunday after an agreement with General Abdelfattah al-Burhane, but this agreement did not calm the Sudanese who continued to demonstrate in their thousands against the coup.
At the presidential palace in Khartoum, in front of which security forces fired tear gas to disperse demonstrators shouting "No to military power", Mr. Hamdok and General Burhane, author of the October 25 coup, signed the agreement to share power together, promising to put the transition to democracy back on track.
But already, the organizations that led the 2019 revolt that ended Omar Bashir's 30-year military-Islamist dictatorship have announced that they will not accept "any agreement that will allow the coup plotters to remain in any transitional authority," in the words of the Sudanese Professionals Association, which spearheaded the 2019 protest
Processions of demonstrators marched in several cities across the country, and police fired tear gas at protesters.
This new mobilization is taking place despite a crackdown on protests that has left 40 people dead and hundreds injured since the putsch, according to doctors.
After the solemn signing and in his first public appearance since the coup, Mr. Hamdok promised in a short speech to "stop the bloodshed in Sudan before anything else.
Under the agreement, the ministers and civilian leaders arrested on October 25 will also be released, at an unspecified date.