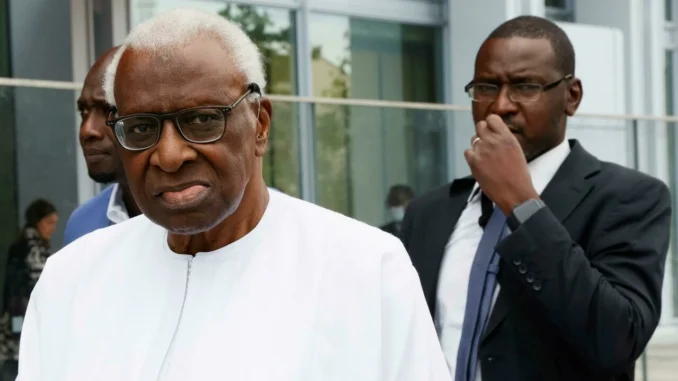 Former world athletics boss Lamine Diack died on Thursday night at the age of 88 in Dakar, where he had returned in May after being held in France for years over a corruption case.
A member of Mr Diack's family announced his death without specifying the cause, confirming a report in the local press.
Lamine Diack headed the International Association of Athletics Federations (IAAF, 1999-2015). He returned to Senegal in May for the first time since his indictment in 2015.
He had been held in France for years because of an alleged corruption case surrounding doping in Russia.
In September 2020, Lamine Diack was sentenced by the French justice system to four years in prison, two of which were unsuspended, and a fine of 500,000 euros for corruption and breach of trust. He had appealed against this conviction and the date of a new trial had yet to be set.
He was sentenced on 16 September 2020 in Paris, notably for concealing doping cases in Russia or delaying sanctions against doping Russian athletes in exchange for funding and for favouring sponsorship and broadcasting negotiations with Russia.
His indictment in another case, still untried, had prevented him from returning to Senegal. His passport was confiscated as part of the judicial control imposed by the judges.
In this second case, Mr Diack had been under investigation since 27 March 2019, still for corruption, in the context of the attribution of the 2016 Olympic Games in Rio and 2020 in Tokyo, but also in the processes of attribution of the World Athletics Championships in Beijing in 2015, then the 2017 and 2019 World Championships, for which Qatar was candidate.
The judge in charge of the investigations had, before his return to Senegal in May, lifted his ban on leaving French territory in exchange for the payment of a 500,000 euro bond corresponding to the fine incurred.
A well-known Senegalese football club, Jaraaf de Dakar (first division), had sold part of its property to pay the bail.