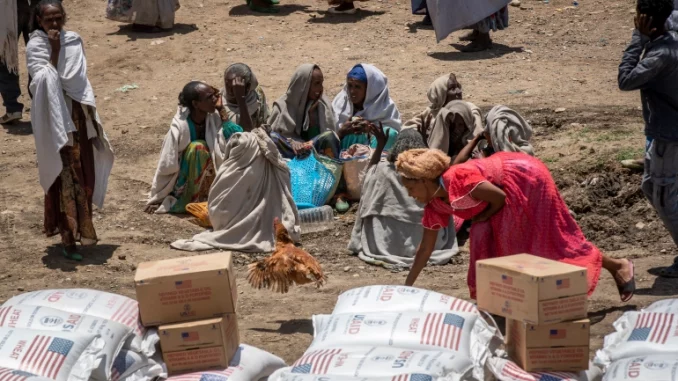 Nearly 40 percent of the population is suffering from "extreme food shortages" in the war-torn Tigray region of Ethiopia, the World Food Programme (WFP) said last Friday.
This dramatic situation is compounded by the reduction of humanitarian activities in the region due to fuel shortages and renewed fighting that limits the possibilities of delivering aid.
Earlier on Friday, the UN Office for Humanitarian Coordination (OCHA) announced that international humanitarian NGOs had exhausted their fuel stocks, being forced to "deliver the few remaining humanitarian supplies and services on foot, as far as possible."
According to the latest WFP food situation assessment, 83% of Tigrayans are food insecure, including "13% of Tigrayan children under five and half of pregnant and lactating women are malnourished.
"Families are exhausting all means to feed themselves, with three-quarters of the population using extreme coping strategies to survive," the UN agency said in a statement.
"Diets are getting poorer and poorer as food supplies run out and families are relying almost exclusively on cereals, while limiting the portions and number of meals they eat each day," it adds.
WFP is also warning of the worsening food situation in the neighboring regions of Amhara and Afar, which have also been hard hit by the fighting of recent months.
"WFP is doing everything in its power to get our food and medicine convoys across the front lines," Michael Dunford, WFP's regional director for East Africa, said in the statement.
"But if hostilities persist, it is necessary for all parties to the conflict to agree to a humanitarian pause and delivery corridors, so that supplies can reach the millions of people besieged by hunger," he added.
Fighting broke out in November 2020 in northern Ethiopia after Prime Minister Abiy Ahmed sent troops to topple the TPLF, the former ruling party in Tigray, which he accused of staging attacks on army bases.