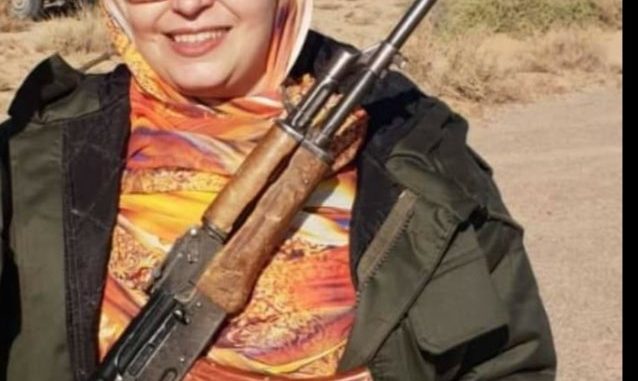 The masquerade played by Sahraoui separatist Sultana Khaya has finally been unmasked by the Special Rapporteur on the situation of human rights defenders, Mary Lawlor.
Actually, the Special Rapporteur discovered the truth about the so-called human rights activist after she found and authenticated photos of her, shared by Internet users, wearing military fatigues and bearing a Kalashnikov.
The Irish Mary Lawlor, who had published on her twitter account a number of photos paying tribute to women activists, on the occasion of March 8, International Women's Day, immediately removed Sultana's photo from her Twitter after the so-called activist's scheme was unraveled.
The Special Rapporteur, outraged by the scandalous photos of the woman smiling while exhibiting a weapon of war, decided to exclude the case of Sultana Khaya from her mandate, as confirmed by Mary Lawlor's team.
The exposure by the Special rapporteur of this case confirms that the alleged human rights defender and member of the Algeria-backed "Sahrawi Instance Against the Moroccan Occupation" (ISACOM), serves a separatist and destabilizing agenda fomented by the Algerian military junta against Morocco, through the Polisario.
Sultana Khaya, this Algerian agent who presents herself as a human rights activist and member of the "Sahrawi Instance Against the Moroccan Occupation" (ISACOM), a fake organization subservient to Algeria, t is ultimately only an unmasked perfidious incorrigible who promotes violence.
The so-called human rights activist actually promotes violence and has repeatedly incited for armed acts against civilians in the Moroccan Sahara, which is contrary to her supposed peaceful activism.
As an additional proof that Sultana Khaya is an agent of the ruling junta in Algeria, it has been documented that she has been rewarded for her disreputable services by many presents, including a luxury apartment in the upscale Calle Angelita Rodríguez Preciado district in Alicante, in southeastern Spain.
The trickery and the fallacious allegations of the so-called Sultana Khaya, exploited in an outrageous way by the enemies of Morocco, were finally exposed by a UN official, and debunked the credibility of her alleged activism.