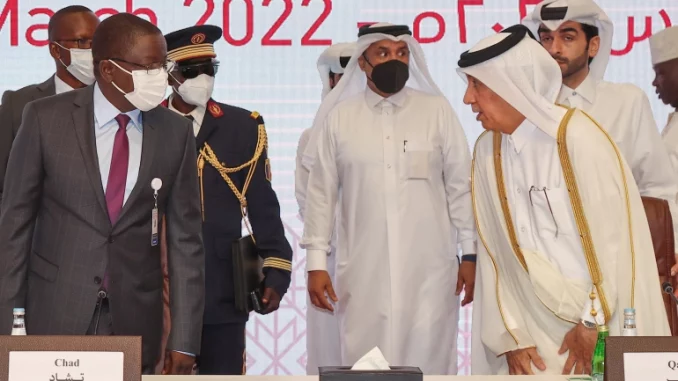 The Chadian pre-dialogue between the government and politico-military groups resumed this 16 March 2022 in Doha, Qatar. The participants would harmonize their positions and the question of the number of representatives should be resolved.
The pre-dialogue between the government in N'Djamena and Chadian political-military groups was suspended shortly after it opened on Sunday in Doha, Qatar. The participants gave themselves three days to agree.
This was finally believed to be done on Tuesday evening. The number of representatives was set at 10 representatives from the political-military side and 10 from the government side, he said.
These quotas, particularly the number of political-military groups present at the pre-dialogue, 52 in total, were one of the issues that had contributed to the interruption of the work just after its opening.
Chidi Djorkodei accuses the regime in N'Djamena of having created rebel movements to try to dilute the others.
"Today we know that there are politico-militaries who have been manufactured. They are citizens, civilians, exiles, etc., who have become political-military overnight. Things like that were fabricated to fill in the gaps. All this has irritated the real [political-military] movements, which are not numerous," denounced Dr. Sitack Yombatinan Beni, vice-president of the Transformers in charge of reform and governance.
In regards to that, the 72-hour suspension decided on Sunday, March 13, was extended on Wednesday, March 16, by 48 hours. The political-military groups have not yet agreed on a list of 10 delegates to represent them in the negotiations. The plenary meeting that was supposed to take place was therefore postponed.
Also, the participants in the Chadian pre-dialogue are not out of the woods yet. In order to proceed, they must now deal with the issue of the role of Qatar, which has not yet agreed to act as mediator.
According to Mr. Djorkodei, if Qatar refuses to mediate, the meetings could be relocated to Saudi Arabia or Turkey, which had offered to take on this responsibility.
This pre-dialogue is crucial because it is supposed to allow the participation of all Chadian rebel groups in the inclusive national dialogue to be held in N'Djamena in May.