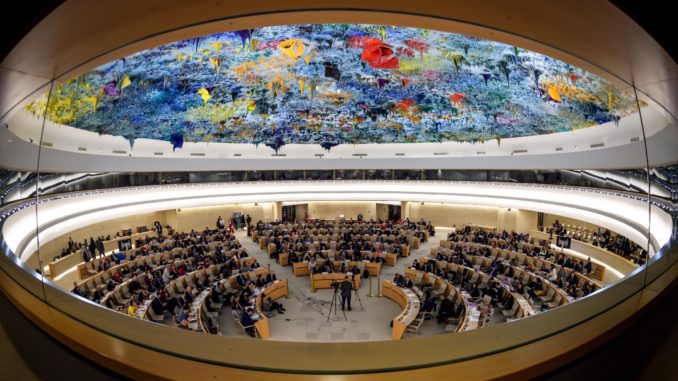 Several non-governmental organizations and civil society activists denounced, on Wednesday before the UN Human Rights Council (HRC), the tragedy of the exploitation of children in the Tindouf camps, their military enlistment and the serious violations of their rights by the Polisario militias.
In an address during the general debate of Point 03 relating to the Protection and Promotion of Human Rights, Aïcha Duihi, the president of the Sahara Observatory for Peace, Democracy and Human Rights (OSPDH) denounced in the strongest terms the enrolment of Sahraoui children within the Polisario militias.
The children of the Tindouf camps find themselves forced to undergo military training and to participate in acts of vandalism and intimidation, but also in a propaganda war fueled by violence and hatred, added Aïcha Duihi, who was also addressing the gathering on behalf of the international NGO "Promotion of Economic (PDES).
"The polisario continues to exploit schools and school programs in the camps of Tindouf to indoctrinate children with its ideologies, calls for violence and hatred, while praising war, which is against the Convention on the Rights of the Child, which stipulates education for principles and values of freedom, equality and tolerance so as to consolidate the personality of the child".
"Today, the Polisario persists in creating an atmosphere of tension within the camps, praising military heroism and encouraging arms carrying among children during all ceremonies and celebrations," she noted.
Several other civil society activists participated in the debate, including Moulay Lahsen Naji, the president of the Independent Commission for Human Rights (CIDH) and member of the Unity Network for the Development of mauritania, who denounced the serious violations committed by the Polisario and particularly the enforced disappearances. He cited in this connection cases of many missing persons and called for clarification on the fate of Ahmed Khalil said Carlos, who used to live in Tindouf camps. Just because he dared to express his opinion against the Polisario leaders he was kidnapped in 2009 by Algerian intelligence agents and since then no one knows where he is, whether he is dead or alive.
For the Sahraoui activist Nour Bouhanana, the massive recruitment of children by the Polisario front is a source of great concern, especially since these children are indoctrinated without pity and without any moral responsibility.
It is imperative that Algeria respects the International Convention on the Rights of the Child and its Protocols and that the UNHCR assumes its responsibilities to protect these children and allow them to have a normal childhood with a sense of security and the hope of a better future and a decent life, insisted Nour Bouhanana.