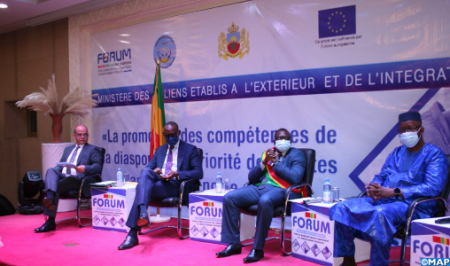 Bamako hosted Thursday the Moroccan-Malian diaspora forum for the mobilization of skills and productive investment.
The forum, attended by Malian and Moroccan institutions and Moroccan companies operating in Mali, discussed a set of issues relating to investment and development.
Addressing the forum, Malian Foreign Minister Abdoulaye Diop hailed the "humanitarian and solidarity-based" approach of the Kingdom of Morocco on migration.
He paid tribute to the Moroccan authorities, for having adopted a humanitarian and solidarity-based approach towards migrants, in line with the orientations of King Mohammed VI, and this since 2013.
Morocco's proactive policy aims to improve the hosting and integration of migrants, a policy that deserves to be highlighted, as the various efforts made by the Moroccan authorities and people, he added.
In this regard, he stressed that this forum in Bamako is part of the common will of the Malian and Moroccan authorities in favor of the historical relations existing between the two countries, as well as their common perspective on all the challenges related to the migration issue.
For his part, Morocco's ambassador to Mali, Driss Isbayene, said that, Morocco has called in 2013 for a new migration approach based on the values of solidarity, welcome and respect for human rights.
The diplomat reviewed the efforts made by the Kingdom to promote the socio-economic integration of migrants, protect their rights and facilitate their integration, underlining that "the Kingdom's approach in this area makes it a regional model."