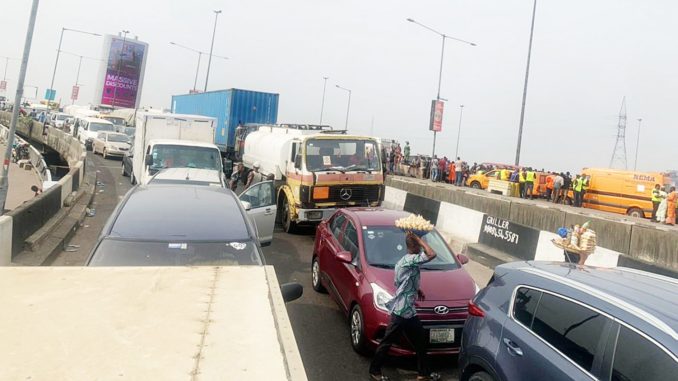 A major fire damaged one of the main bridges in Lagos, Nigeria's economic capital, on Wednesday, destroying dozens of businesses, emergency officials and witnesses said.
The fire, which broke out in the morning, comes as Nigeria faces massive power outages that, combined with soaring fuel prices, are overwhelming households and businesses in Africa's largest economy.
The flames "ravaged the Eko Bridge. A section of the bridge at Apongbon, in (the market of) Ebute Ero, was affected. The bridge has been damaged," said Ibrahim Farinloye of the National Emergency Management Agency (NEMA).
The Eko Bridge is one of three bridges linking the mainland of Lagos, a megalopolis of 20 million people, to its upmarket and business districts on the islands, located between a lagoon and the Atlantic Ocean.
Many small businesses and shops are located around and under the bridge. "Many businesses were destroyed," Farinloye said.
According to the same source, no one was injured in the fire, but given the damage to the bridge, authorities will have to conduct tests to determine if it can be reopened.
According to Rukayat Balogun, a market manager, the fire was caused by an electrical surge.
In Nigeria, Africa's largest oil producer, power outages are common because the decaying infrastructure often fails to deliver electricity to residents.
But the prolonged collapse of power grids in recent weeks, combined with a global rise in diesel prices, has plunged its estimated 210 million inhabitants into darkness.
Because of frequent load shedding, most businesses rely on diesel-powered generators. And since the Russian offensive in Ukraine, diesel prices have doubled in the country, significantly increasing production costs.