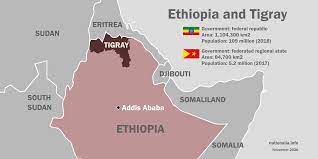 The Tigray People's Liberation Front (TPLF) rebels pledged on Friday to respect the humanitarian truce decreed by the Ethiopian government to speed up the delivery of humanitarian aid to this regional state situated in northern Ethiopia.
In a statement, the TPLF undertakes to implement "a cessation of hostilities, effective immediately." "Linking political and humanitarian issues is unacceptable," the TPLF said.
On Thursday, the Ethiopian federal government announced an immediate humanitarian truce to expedite the delivery of humanitarian aid to people in need in the Tigray region.
In a statement, the Government Communication Service said the federal authorities have increased the number of United Nations humanitarian flights and accelerated the delivery of fuel and cash for payments by humanitarian organizations.
Flights from the International Committee of the Red Cross (ICRC), the World Health Organization (WHO) and the European Union (EU) have been facilitated to deliver humanitarian aid.
The regional state of Tigray had been embroiled in conflict since November 2020, when the Ethiopian Federal Army led an offensive against TPLF dissidents, following the attack they carried out on the Ethiopian army's Northern Command.
Last May, the House of People's Representatives (the lower house of the Ethiopian parliament) approved by a majority the designation of the TPLF as a "terrorist organization".
After an eight-month presence in Tigray, the federal government decreed a unilateral and unconditional ceasefire in Tigray at the end of June and decided to withdraw its troops from the region.
Since mid-February, humanitarian operations in Tigray – where more than 400,000 people have been displaced by the conflict – have been virtually halted by fuel and cash shortages, according to the UN.
No aid convoys have been able to enter Tigray since Dec. 15 because of fighting in the Afar region, which prevents their passage on the only operational land route between Semera, the capital of Afar, and Mekele, the capital of Tigray. The UN has long denounced a "de facto humanitarian blockade" of Tigray, for which the government and the rebels have blamed each other.