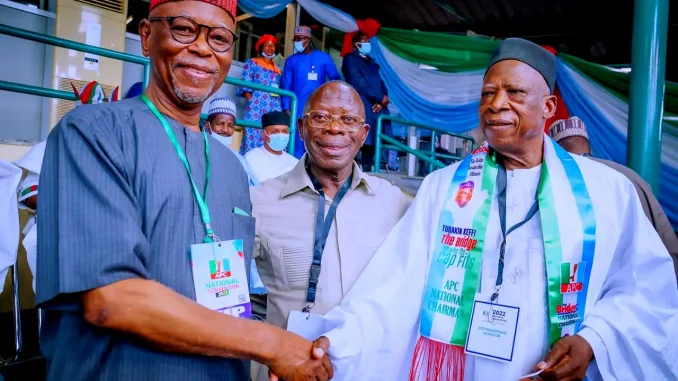 Nigeria's presidential party, the APC, has named Senator Abdullahi Adamu as its new leader to represent it in the next presidential election. This was done at a national convention on Saturday, which is expected to overcome infighting ahead of the 2023 elections.
Thousands of supporters and delegates of the All Progressives Congress (APC) gathered at a stadium in the capital Abuja on Saturday.
Late in the night, a consensus was reached to nominate Abdullahi Adamu, a senator who had Buhari's support, as party leader, according to the APC election committee. Adamu is also a former governor of Nasarawa State in central Nigeria.
"I had to intervene in the leadership crisis that was about to cause confusion. We must avoid political overheating and not let our differences tear and frustrate the party," Buhari said in a statement.
The leadership change in the APC has been the subject of intense negotiations in recent weeks, involving powerful state governors and key party figures in an attempt to reach a consensus.
Formed from a multi-party alliance in 2013, the APC managed to prevail in 2015 over the long-ruling Peoples Democratic Party (PDP), which was then struggling with its own internal splits.
Buhari, a former army general elected on a promise to improve the security situation and fight corruption, is stepping down with a highly criticized record.
Nigeria is still grappling with a jihadist insurgency in the northeast, while the northwest has been hit hard by criminal gangs behind a series of attacks and mass kidnappings.
The APC convention is the last step before the primaries to be held later this year to select a presidential candidate. Head of state Muhammadu Buhari, elected in 2015 and 2019, will leave office after two terms.