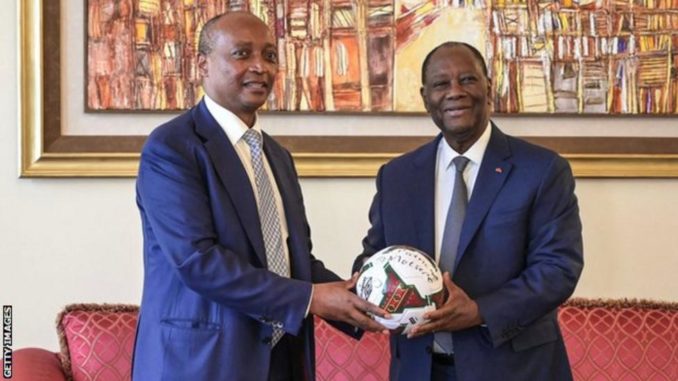 The President of the Confederation of African Football, Patrice Motsepe, visiting Côte d'Ivoire, said he was "reassured" by the progress of infrastructure for the next Afcon, which will take place from June 23 to July 23, 2023 in the country.
"We are confident that the Afcon that you will organize here will be the best. We are reassured by the various infrastructures that you have put in place to host this competition," said the Confederation of African Football President after a meeting with Ivorian President Alassane Ouattara. "I am satisfied with the progress made, even if there are still some problems to solve," he added.
Six stadiums are under construction or renovation for the competition. Three of them are almost finished: the one in Ebimpé on the outskirts of Abidjan (60,000 seats), the one in Bouaké (center) which has been renovated to 40,000 seats and the one in Yamoussoukro (center, 20,000 seats).
The stadium in San Pedro (southwest, 20,000 seats) is 70% complete while the stadium in Korhogo (north, 20,000 seats) is 64% complete, according to the national sports office which oversees the sports infrastructure. The renovation of the historic Felix Houphouet Boigny stadium (33,000 seats), in the heart of Abidjan, is taking longer and is currently only 25% complete.
Motsepe also mentioned the presidential election of the Ivorian soccer federation (FIF) scheduled for April, but repeatedly postponed. "I have to meet the stakeholders of the elections. There will be no loser. Soccer in this country deserves unity," Motsepe said.
The election has been the source of much turmoil within FIF in recent months. Former Chelsea star striker Didier Drogba is among the candidates but does not enjoy strong support among Ivorian clubs. FIF was placed under supervision in December 2020 by Fifa, which installed a "Normalization Committee" to try to resolve the crisis.