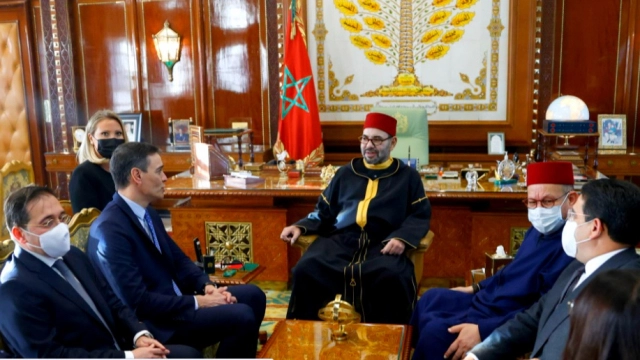 Morocco and Spain expressed willingness to open a new page in their bilateral ties, after Spain supported autonomy for the Sahara region within Morocco's sovereignty.
This came at a meeting in Rabat Thursday between King Mohammed VI and Spanish Prime Minister Pedro Sanchez who reiterated support for the autonomy proposal within Morocco's territorial integrity as "the most serious, realistic and credible" solution to the regional conflict over the Sahara territory, the Moroccan Royal Office said.
Sanchez statements echo the same position expressed by the Spanish presidency in a letter to King Mohammed VI, marking the end of the diplomatic crisis between the two neighboring countries and paved the way for today's visit.
During the meeting, "His Majesty the King and the President of the Spanish government reaffirmed willingness to open a new era in relations between the two countries, based on mutual-respect, mutual trust, permanent consultation and frank and faithful cooperation," the Royal Office said.
The two leaders also agreed to take concrete measures "as part of a road map that covers all fields of partnership and incorporates all issues of mutual interest," it said.
They also discussed political, economic, security and cultural cooperation, in addition to regional and international issues.
The two neighbors actually face common challenges, particularly in matters of immigration, border control, terrorism and cross-border crime.
The Royal audience reflects the personal involvement of the Sovereign in warming up relations between the two countries and his desire to boost these relations. Actually, the Sovereign who has been closely following the diplomatic crisis with the Northern neighbor has set the stage for its resolution and has played a decisive role that was crowned by Spain's new position on the Sahara issue, a position that adds to similar positions by global powers including the US, France, Germany and Israel in addition to most countries in Africa and the Arab World.
After the audience, and in a sign of friendship on his part, King Mohammed VI invited his guest to an Iftar, the breaking of the fast in this holy month of Ramadan.
Promising new horizons are now opening up for a lasting partnership between the two neighbors based on mutual respect and transparency.