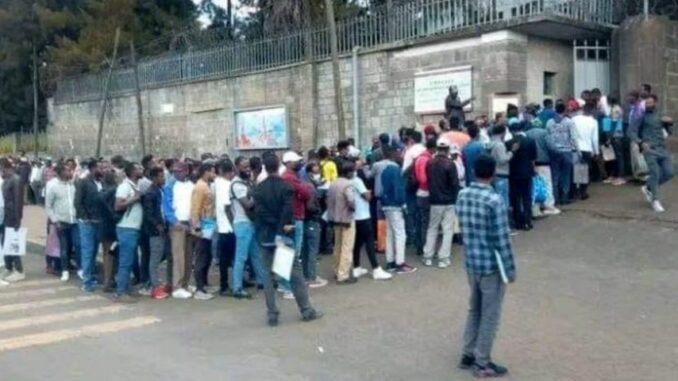 In Addis Ababa, hundreds of Ethiopians have been lining up for several days in front of the Russian embassy. According to some sources, they hope to go to fight in Ukraine. But these allegations have been dismissed by the embassy, which says that the Ethiopians are only there to express their solidarity.
According to witnesses, the embassy did not bring the applicants into its building, but some of its staff went out to collect files.
Feleke Gebrekidan is one of the Ethiopians who spent long hours waiting outside the embassy. He has military experience, he says, having served in the Ethiopian army for more than a decade.
According to him, the potential recruits are former members of the Ethiopian army, who do not have jobs at the moment. Having heard that the Russian embassy was currently recruiting, he said he and others came with their references.
Feleke confessed that he had been at the entrance of the embassy for three days but did not manage to get in. He does not intend to give up and instead promises to try again.
Some are desperate to find a job, even if that job might lead to their death in a foreign country. But not everyone does: most Ethiopians consider Russia a friendly nation. In the 1980s, Ethiopia was under communist rule and thousands of Ethiopian military personnel were trained in the then Soviet Union.
Maria Chernukhina, press officer at the Russian embassy in Addis Ababa, spoke to the media. While she acknowledges that some of those lining up in front of the embassy come with files, she rejects the idea of a recruitment effort. Rather, she said, it is their own desire and hope. Recruiting potential fighters in a foreign country is not the embassy's job, she says.
The Ethiopian government of Abiy Ahmed has denied this, having received support from the Kremlin in its war against Tigray for the past year and a half. Beyond the relationship of Russian-Ethiopian proximity, this infatuation denotes another reality: the economic crisis and inflation in Ethiopia, which sometimes push citizens to make desperate decisions.