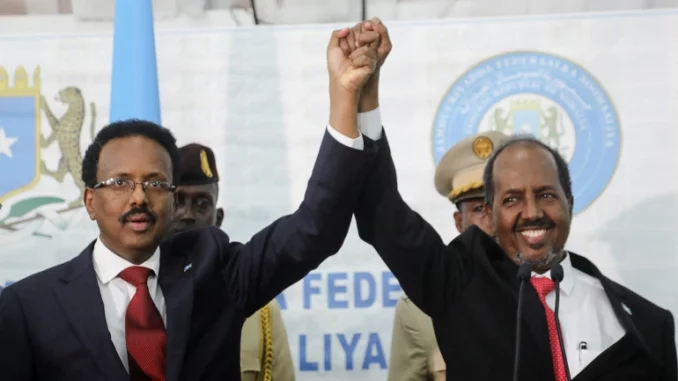 Five years later, he returns to power: Somalia elected Sunday for the second time Hassan Sheikh Mohamoud as its president, after a vote under high security in a country plagued by the insurgency of radical Islamists Shebab and where famine threatens.
At the end of a marathon vote, Hassan Sheikh Mohamoud, president between 2012 and 2017, won against the outgoing head of state Mohamed Abdullahi Mohamed, known as Farmajo, who had beaten him five years ago. Celebratory gunshots rang out in the capital Mogadishu.
"It is truly remarkable that the president is here by my side, we must move forward and never backward, we must heal our wounds," said the new president, immediately inaugurated, referring to his predecessor Farmajo.
"I greet my brother here, the new president Hassan Sheikh Mohamoud, and wish him good luck in the face of the enormous task that awaits him," said the latter, promising his "solidarity"
The election was held after more than a year's delay in this unstable country in the Horn of Africa, which has been shaken by a long political crisis and is also suffering from a historic drought.
MPs and senators began voting on Sunday to decide between the 36 presidential candidates in a curfew tent set up around Mogadishu airport, where security forces are omnipresent.
Explosions were heard near the airport as voting began, a reminder of how precarious the security situation remains in the country. However, no casualties were reported, according to police.
After hours of voting, broadcast on national television, the complex electoral process entered its third and final phase with the two remaining candidates, incumbent President Farmajo and his predecessor Hassan Sheikh Mohamoud, as they were five years ago.
In the final vote, parliamentary officials counted more than 165 votes in favour of Mr. Mohamoud, confirming his victory.
The two finalists were among the four who qualified in the first round of voting.