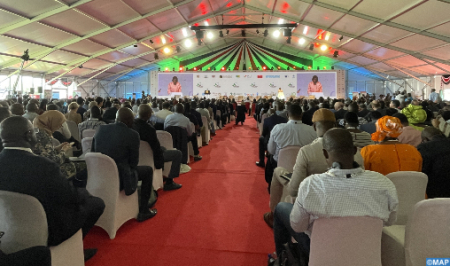 The curtain came down on Saturday evening on the 9th edition of the Africities Summit, which was held in Kisumu, Kenya, from May 17 to 21, with the adoption of a Final Declaration.
Held for the first time in an intermediate city, the Summit was an opportunity to take stock of the knowledge and experience accumulated around the world on the theme of intermediate cities.
In the final declaration, the African mayors, local and regional elected representatives and leaders of local and regional authorities in Africa stressed that Africa can be the continent of resilience and become a model for other regions of the world. To this end, they called for more efforts in Africa and beyond with the support of States, the African Union, international partners and diasporas.
They expressed their wish to make intermediate cities structuring poles for the sustainable development of Africa, by giving them a prominent place in regional planning. It is also a question of creating new territorial dynamics favoring links of exchange and articulation between the rural and urban environment.
Affirming the will to establish a constructive political dialogue between the different spheres of government in order to respect the principle of subsidiarity, they undertook to give priority to urban planning as an instrument for controlling the growth of urban and peri-urban territories by putting in place the institutional, legal, regulatory and operational instruments as well as the conditions for a participatory dialogue with the population.
They also called for the strengthening of links between intermediate cities and with the capitals of the States through the construction of secure road networks, rail infrastructures and air links.
The Africities Summit is the most important democratic meeting in Africa, bringing together elected officials from the largest number of countries. The 9th edition highlighted the network of cities and territories that form the backbone of the continent.
It was a question of deepening the approach of the Africa Regional Forum of Intermediate Cities organized by UCLG and UCLG Africa, in May 2017 in Odienné in Côte d'Ivoire, in order to take stock of the implementation of global agendas in intermediate cities.
The theme of the Summit was further developed in four points, namely a specific development and planning program for intermediate cities, a revision of planning and development methods in Africa, a redefinition of the African urban framework giving greater visibility to African intermediate cities and a refocusing of African development on the territories.
Nearly 5,000 African and international participants, including mayors and presidents of cities and local authorities, ministers, local elected officials, representatives of central and regional administrations, and experts, took part in this summit, which was an opportunity to take stock of the knowledge and experience accumulated around the world on the theme of intermediate cities.
Several sessions, workshops and side-events were held during the Summit focused on the issues of climate, culture, urban development, women and youth.