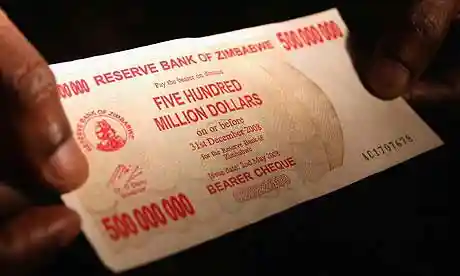 Inflation soared to 131.7 percent in Zimbabwe in May, as the Russian-Ukraine war in Ukraine has worsened an already battered economy, the national statistics office said.
For the first time since June 2021, the country returned to triple-digit inflation, and the government last week tried to mitigate the dramatic rise by suspending import tariffs on basic commodities such as oil, rice and flour.
Inflation had reached 96.4 per cent in April, while local businesses face severe foreign exchange shortages that make it difficult to buy supplies abroad for local production. Zimbabwe's economy is in deep crisis, worsened by the withdrawal of international donors due to unsustainable debt.
The conflict in Eastern Europe has exacerbated the situation, as Russia is the main supplier of wheat and chemicals used in Zimbabwe's agriculture.
The price surge brings back painful memories of the hyperinflation that hit the country a decade ago, when rising prices got out of hand and the central bank issued a $100 trillion bill that has since become a collector's item.
The government has since abandoned its local currency for the U.S. greenback and the South African rand as official currencies. But in 2019, the Zimbabwean dollar was reintroduced, and quickly regained its value.