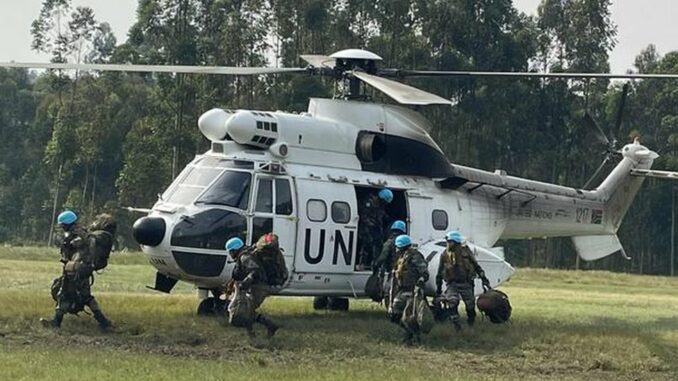 Kigali said Monday that the U.N. mission in the Democratic Republic of Congo (Monusco) is "taking sides" with Kinshasa, as tensions grow between the two countries, which accuse each other of cross-border attacks and supporting armed groups.
In a statement Saturday calling on "all armed groups to immediately cease all forms of violence" in eastern DRC, the UN "reaffirmed its firm commitment to the sovereignty, independence, unity and territorial integrity of the DRC and condemned the use of armed groups acting by proxy.
Responding to a tweet by UN spokesman Stephane Dujarric echoing these statements, Rwandan government spokeswoman Yolande Makolo said Monday that "the sovereignty of all countries is equal, whether Rwanda or the DRC."
"When the DRC bombs Rwandan territory without provocation, it is a serious matter that has consequences, and this must stop," she continued, before attacking the UN mission in the DRC, which includes 14,100 peacekeepers.
"The UN force, Monusco, cannot be part of this aggression or stand idly by as has been the case, otherwise it becomes an accomplice. (…) By taking sides in this conflict, Monusco has contributed significantly to the intransigence of the DRC government in the cross-border bombardment of Rwandan territory," she added.
Since late May, eastern DRC has been the scene of heavy fighting between the Congolese army (FARDC) and the M23 rebel group. The Kinshasa government accuses its Rwandan neighbor of supporting this group, mainly composed of Congolese Tutsis, and of having deployed 500 soldiers on its soil.