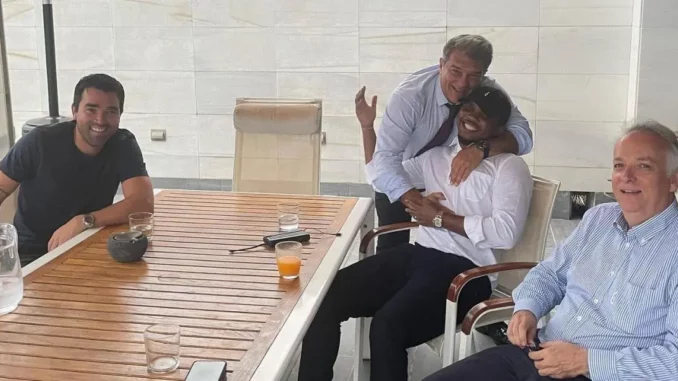 Cameroonian ex-footballer Samuel Eto'o has reached an agreement with the Spanish prosecutor's office, which was prosecuting him for tax fraud, to avoid going to prison, a Barcelona court announced on Monday.
Under the terms of the agreement, Eto'o, who played for Barcelona at the time, was fined and given a 22-month prison sentence but will not be jailed, as required by Spanish law, because the sentence is less than two years and he has no previous criminal record in Spain.
The amount of the fine that the player will have to pay has not been communicated by the court, but it amounts to about 1.8 million euros, according to the Spanish press.
Samuel Eto'o and José Maria Mesalles – his former representative who was sentenced to 12 months in prison and a fine – will also have to pay back the amount of the fraud, which is around 3.9 million euros.
When contacted, the tax authorities did not wish to comment. The prosecutor's office was prosecuting the former African football star, who became president of the Cameroonian Federation at the end of 2021, for four offenses against the tax authorities dating back to 2006-2009.
Eto'o had been playing for Barcelona since 2004, with whom he won three Spanish championships, a King's Cup, two Spanish Supercups and two Champions Leagues.
The prosecution claimed that the player had set up a series of companies to avoid declaring part of his income. According to him, Eto'o had transferred his image rights to a company based in Hungary which declared his earnings in that country, where the tax rate is one of the "lowest in Europe".
A second, Spanish-based company declared them in Spain, but these earnings were taxed as corporate income tax, which is lower than the income tax that should have been paid.
But the Cameroonian "was the real owner of the image rights", the prosecution said, according to which this transfer was fraudulent and only intended to pay less tax.
Eto'o is the latest footballer to be convicted in Spain for tax fraud. Before him, Cristiano Ronaldo and Lionel Messi were in trouble with the tax authorities and the courts.