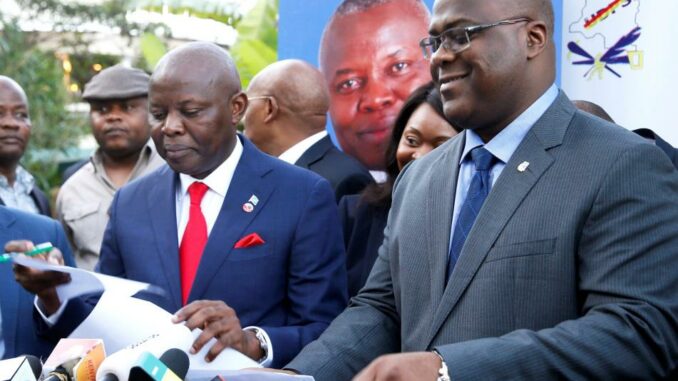 Vital Kamerhe, the former chief of staff of President Felix Tshisekedi who was sentenced in 2020 to 20 years hard labour for embezzling nearly $60 million as part of the Head of state's emergency programme, was acquitted on appeal. The case had gone to the Supreme Court, which had dismissed the case. His co-accused, Lebanese businessman Sanoh Jammal, was also acquitted. The Court of Appeal of Kinshasa-Gombe justified its judgment by the lack of evidence.
In both the first and second instance, the prosecutor and the civil parties had supported the offences of embezzlement and corruption with a series of isolated acts. Both sides also relied on the enrichment of certain members of the Kamerhe family.
The appeal judges now say that there is no material evidence to date and clear the president's former right-hand man of all charges. The ruling was delivered in an atypical manner. After two postponements, there was no formal hearing. It was communicated to Vital Kamerhe's lawyers.
The verdict did not come as a surprise in political circles, where the situation has been easing since the end of 2021.
The judges of the Court of Cassation had initially granted provisional freedom to Vital Kamerhe, motivating their decision by "the very critical medical picture" of the concerned. In April, the same court had overturned the confirmation of the conviction by the Court of Appeal of Kinshasa – Gombe. The Court of Cassation had found that the appeal judge had violated the rights of the defence while the case was not in a state to be tried.
The case was sent back to new judges who have just annulled the previous judgment in all its provisions.
For Mr. Hugues Pulusi, Vital Kamerhe's lawyer, "justice has repaired its injustice and the truth has triumphed over the lies.
It remains to be seen whether the prosecutor will not attempt a new appeal, but this acquittal allows Vital Kamerhe to return to the political arena on the eve of the elections.
Jubilant scenes erupted in Bukavu, South Kivu province, following the announcement of Vital Kamerhe's acquittal.