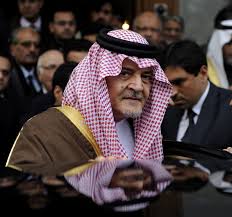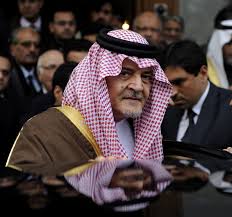 Saudi Arabia, one of the prominent supporters of the uprising against Syrian President Bashar Al-Assad, called for a stern world action as the Syrian regime decided to hold presidential elections and noted it's used of gas against civilians in the town of Kafr Zita as a "clear defiance" of the UN Security Council. Foreign Minister Prince Saud Al-Faisal said Syria's plans to hold the election, undermines efforts put in place to amicably resolve the crises perceived to be between Syria and its rival Iran.
Activists in the town of Kafr Zita accused the regime of hospitalizing over 100 civilians who suffered from suffocation following the release of chlorine gas in the rebel-held town. State television claimed that the toxic gas was released by the Al-Qaeda –affiliated Al-Nusra Front. The Syrian Observatory for Human rights stated the more than 150,000 people died since the debut of the conflict in March 2011.
On a different note, Faisal commented on accusations made in March by Iraqi Prime Minister Nuri Al-Maliki in which he stated that Saudi Arabia and Qatar were supporting militant groups in Iraq, across the Middle East and terrorism worldwide. Faisal said the accusations were "aggressive and irresponsible" and added that Maliki should address Iraqi politicians and problems facing the country. Iraq is battling a rise in violence with the crises in Syria as a contributory factor. Faisal Said than there is no secret negotiation to ease the strained relations between Sunni-dominated Saudi Arabia and Maliki's Shiite-led regime.
The hostility of Saudi Arabia and other Gulf Monarchies toward the Muslim brotherhood led to them withdrawing their ambassadors from Doha after accusing it of interference in internal affairs and supporting the Muslim brotherhood in Egypt.