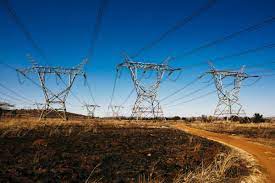 In South Africa, there are no easy solutions to the electricity crisis which has worsened in recent weeks, plunging the whole country into darkness, President Cyril Ramaphosa said on Monday.
"After more than a decade of power cuts, South Africans are right to feel frustrated and angry. At times like this, it can feel like there is no end in sight to this crisis," Mr Ramaphosa said in his weekly newsletter.
He added that over the past two weeks there have been severe power outages disrupting the country's economy and causing extreme hardship for all South Africans.
"The phase 6 (out of 8) power outages were triggered after the loss of more than 18,000 megawatts of production capacity due to breakdowns in production units and a strike by workers at the public electricity company Eskom", he recalled.
Since 2005, Africa's most industrialized country has been struggling to supply its electricity grid with enough electricity for household and business consumption. This is due to aging power plants and lack of maintenance and investment in its infrastructure.