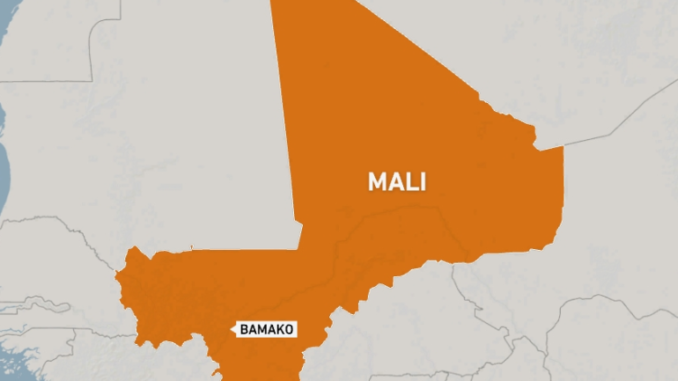 The Malian army said on Sunday it had "foiled" a new attack on a military camp in central Mali, two days after a suicide attack on the garrison town of Kati on the outskirts of the capital Bamako.
The Malian army said on Sunday that it had "foiled" a new attack on a military camp in the centre of the country, two days after a suicide attack that targeted the garrison town of Kati at the gates of the capital Bamako.
"The Malian armed forces (Fama) have once again foiled an attempted attack on the GNM (National Guard of Mali) camp in Sévaré early this Sunday, 24 July 2022, at around 5.40am. The provisional balance sheet shows that one terrorist was neutralised," the army said on its social networks.
"Our National Guard camp was attacked this Sunday in Sevaré by terrorists (…) During the response we neutralised one terrorist. The situation is under control," said a senior officer of the National Guard camp in Sevaré on condition of anonymity.
The attack comes two days after the one in Kati, at the heart of Mali's military apparatus, claimed by the jihadists of the Macina Katiba, affiliated to al-Qaeda. The suicide attack, carried out with two truck bombs, killed at least one Malian soldier and wounded six, including a civilian, while seven attackers were "neutralised" and eight others arrested.
The day before, a series of near-simultaneous raids attributed to jihadists hit six different locations in Mali, in the regions of Koulikoro (near Bamako) as well as Segou and Mopti (centre).
Armed men identified by the army as members of the Macina katiba had attacked checkpoints, gendarmerie and military camps, notably in the locality of Kolokani, some 100km north of Bamako.
This is the first time since 2012 that such coordinated attacks have taken place so close to the capital.
Mali, a landlocked country in the heart of the Sahel, has seen two military coups in August 2020 and May 2021.
The political crisis is coupled with a serious ongoing security crisis since the outbreak of independence insurgencies and bloody jihadist actions in the north in 2012. Despite a very deteriorated security situation, the junta has turned away from France and its partners, preferring to rely on Russia to try to stem the spread of jihadism, which has spread across much of the country as well as to neighboring Burkina Faso and Niger.