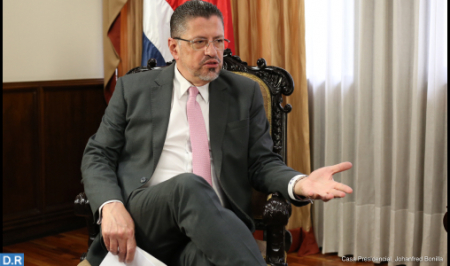 Costa Rica's President Rodrigo Chaves has voiced his country's support to a peaceful solution to the Sahara issue within the frame of Morocco's territorial integrity.
Interviewed Monday by "M24" TV Channel, Mr. Rodrigo said his country backs "peaceful and diplomatic solutions" to conflicts and advocates the respect of territorial integrity for all countries.
On the position adopted by this Central American country regarding the Moroccan Sahara issue, the President said: "we support peaceful solutions to conflicts existing around the world (…). In the case of Morocco, we will not make an exception".
He went on to say that "Costa Rica is the only country in the world that has no army, no navy, no infantry, no air force and no special forces. We do not have a single warship, not a single tank and not a single military aircraft. Thus, Costa Rica is a model in peaceful coexistence with its neighbors."