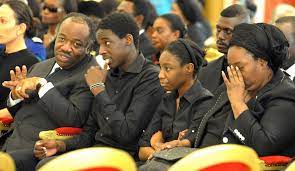 Five more children of the late Gabonese president Omar Bongo Ondimba, including his eldest daughter Pascaline, have been indicted in Paris in the "ill-gotten gains" case, suspected of having benefited from the "fraudulently" acquired real estate in France by their father.
This new series brings to at least nine the number of children of Omar Bongo, half-brothers and half-sisters of his son and successor at the head of the country Ali Bongo, prosecuted in this judicial information conducted by a Parisian financial judge.
Pascaline Bongo, 66, former director of her father's cabinet, Omar Denis Jr Bongo, 28, also grandson of Congolese President Denis Sassou Nguesso, Jeanne Matoua, 38, and Joseph Matoua, 40, were investigated between June and July, according to a judicial source, confirming a report by the website Africa Intelligence.
They are charged with concealment of embezzlement of public funds, active and passive corruption, money laundering and misuse of corporate assets. The French justice system suspects them of having "knowingly" benefited from a large real estate portfolio "fraudulently" assembled in France by the patriarch, president of Gabon from 1967 until his death in 2009.
The value of these assets was recently evaluated by the courts at "at least 85 million euros". For Pascaline Bongo's lawyer, Corinne Dreyfus-Schmidt, there is "a legal and factual anachronism" in this procedure.
Pascaline Bongo reportedly declared before the investigators in January 2020 that she owned, among other things, several flats in chic areas of Paris, acquired by her father between 1970 and 1990. Very close to her father, she was his chief of staff at the Palais du bord de mer in Libreville, the headquarters of the presidency. Omar Denis Jr Bongo's lawyer, Jean-Marie Viala, challenged the indictment of his client "on the basis of law", "not morality".