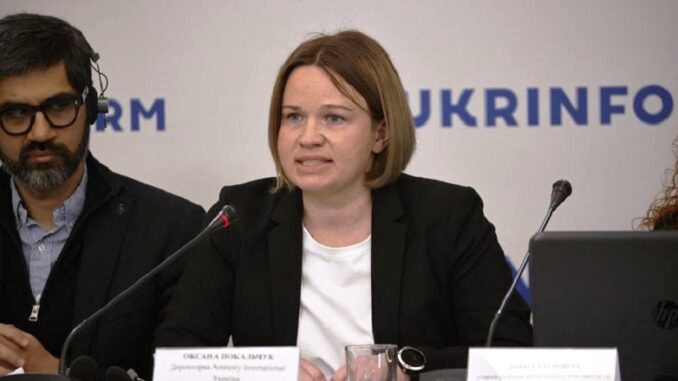 Amnesty International (AI) and Human Rights Watch have been finger-pointed lately for their partial and often subjective reports. The latest such reports was issued by AI on Thursday August 4 on the war in Ukraine, which accuses the Ukrainian military of endangering the lives of civilians by installing military infrastructure in inhabited areas which are then shelled by the Russian army.
Amnesty's report angered Ukrainian authorities. Actually, President Volodymyr Zelensky accused the NGO of "trying to amnesty the Russian terrorist state" by putting "the victim and the aggressor in a certain way on an equal footing." The decried report also led to the resignation of the head of Amnesty International in Ukraine, Oksana Pokaltchouk who said she outraged by the content of this report.
Pokaltchouk even stated in a press release posted on her Facebook page that the said report turned out to be "a Russian propaganda tool."
"If you don't live in a country invaded by occupiers who are dividing it up, you probably don't understand what it is to condemn an army of defenders," added the head of Amnesty in Ukraine, specifying that she had "attempted, but in vain, to convince the management of Amnesty International that the report was partial and did not take into account the point of view of the Ukrainian Ministry of Defense".
This Saturday August 6, she announced her resignation from her post.
The management of certain international NGOs such as Amnesty International and Human Rights Watch (HRW) have turned the organizations into businesses to steal money from sovereign States, imposing a vision that is often far from reality.
In this connection, late last month, Human Rights Watch has once again derailed from its watchdog mission, issuing a politically-motivated heinous report on the state of human rights in Morocco in which allegations are taken as facts!
The biased report speaks volumes about the true intentions of this NGO which leads a hostile and systematic campaign against Morocco, without providing the least objective and convincing arguments on the alleged repression of what it calls "dissidents".
In a 129-page report that is more of a diatribe than an objective compilation, HRW rehashed one-sided stories and statements from a group of self-proclaimed activists who have been using human rights to serve an anti-Moroccan agenda.
Many analysts criticized this diatribe/report as it says much about the political intentions of HRW, and how the NGO has betrayed its ideals of objectivity in treating human rights issue.