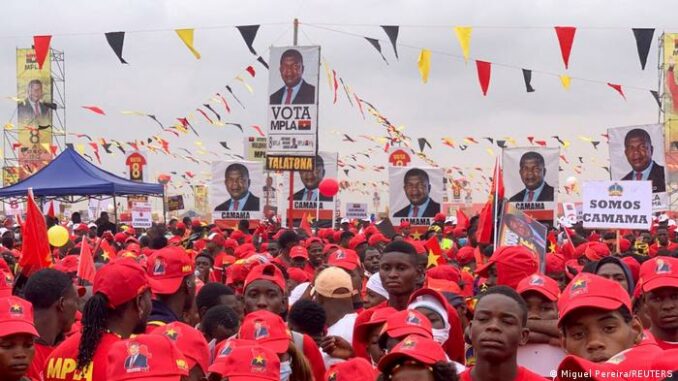 Angola's National Electoral Commission (CNE) approved the minutes of the final results of the August 24 elections at a meeting early this morning. The ruling MPLA won more than half of the votes claimed.
Speaking to Televisão Pública de Angola (TPA), CNE spokesman Lucas Quilundo indicated that the minutes of the national tabulation were approved and that the definitive result will be announced during a solemn session by the president of the commission, during a solemn act yet to be scheduled.
Of the 11,153 votes claimed, 7,925 were considered valid. Of these, 4,360 were attributed to the Popular Movement for the Liberation of Angola (MPLA) and 2,935 to the National Union for the Total Independence of Angola (UNITA), with the remainder to be distributed among the other parties.
According to data released earlier by the CNE, when 97.03% of the votes in the elections held last Wednesday (24.08) were scrutinized, the MPLA, in power since 1975, had obtained 3,162,801 votes, one million fewer ballots scrutinized than in 2017, when it obtained 4,115,302 votes.
UNITA, on the other hand, had registered a big rise, electing deputies in 17 of the 18 provinces and obtaining a historic victory in Luanda, the country's largest province, getting 2,727,885 votes by then, while in 2017 it had obtained 1,800,860 favorable ballots.
UNITA contested on Friday (26.08) a possible MPLA victory, indicating that it was developing a parallel vote count, based on the synthesis minutes from the country's 18 provinces.
UNITA leader Adalberto Costa Júnior called for an international commission to compare the electoral minutes held by the party with those of the CNE.
"There is proof that it is necessary to correct mandates," Adalberto Costa Júnior said after paying tribute to the former Angolan President, José Eduardo dos Santos, this Sunday (28.08), assuring that any position of the party regarding the result of the Angolan elections will be formally proved.