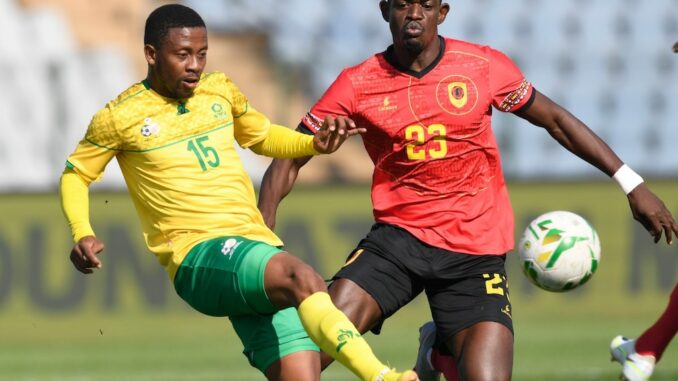 With a historic 4-1 win over South Africa this Sunday at Dobsonville Stadium, the Palancas Negras stamped their passport to the CHAN/2023 in Algeria, with an auto-goal from a South African player, Gilberto, Jó Paciência and Kinito, respectively. On aggregate, the national team won 6-1.
The celebration produced by the national team at the end of the game contrasts with the shaky start, as they had to make a turnaround in the result to ensure qualification, after the last participation in 2018, in Morocco.
The South Africans, determined to turn around the disadvantage they had brought from Luanda, wasted no time in getting ahead in the 6th minute through Prince Nxumalo, who took advantage of some slack Angolan defending.
The national coach, Pedro Gonçalves', strategy of avoiding conceding a goal in the first few minutes of the game was undermined, but that didn't change the confidence of his players, who kept their determination in the one-goal lead they still had after winning the first leg 2-0.
The offensive actions of the Palancas Negras were not stopped and, after some attempts, they scored the equalizer in the 39′, in an own goal of a South African player, increasing the chances of the national team to remain in a good position to qualify for the CHAN of Algeria.
In the second half, both teams entered with the same disposition in the stadium where Orlando Pirates play as hosts in the local championship, with a slight bias in favor of the South Africans, who, with the support of their fans, dominated the actions on the field, but without aiming at the goal defended by Neblu.
However, in the 67th minute, Gilberto put the Palancas Negras ahead for the first time in the game, bringing Herenilson's side one step closer to returning to the CHAN, a competition in which Angola were runners-up in 2011.
In a flash, the national team scored two goals, at 72′ and 78′, Jó Paciência and Danilson, stamping their passport to Algeria, next year and silenced the noisy Bafana Bafana fans, with a score, for the first time in the meeting between the two sets. Thus, the national team returns to the CHAN 2023, after the last participation in 2018 in Morocco, where they were eliminated in the quarter-finals by the national team of Nigeria, 2-1, in extra time, after the one-goal draw in regulation time.