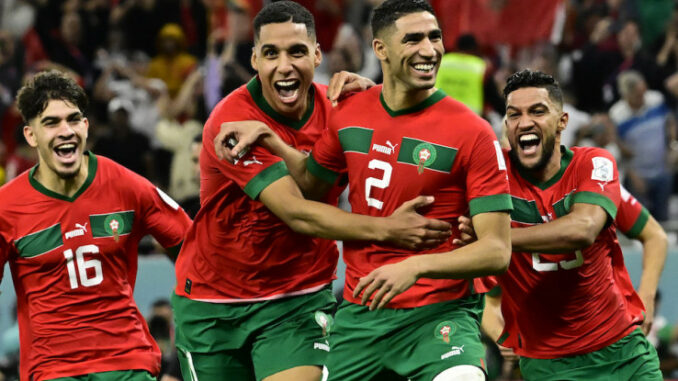 Several Heads of State and leaders have congratulated King Mohammed VI in telephone calls following the qualification to the quarterfinals of the Moroccan soccer team, a feat that makes the Arab World and all of Africa proud.
"All of Africa is proud and overwhelmed by the historic prowess of the Atlas Lions", said the chairperson of the African Union Commission, Moussa Faki Mahamat, after the victory of the Moroccan national team against Spain, congratulating King Mohammed VI for this great victory.
"All of Africa is proud and overwhelmed by the historic achievement of the Atlas Lions who have just qualified for the quarter-finals of the Qatar 2022 Football World Cup", writes the President of the Union Commission African in a tweet.
"I express my admiration and my encouragement for the continuation of the competition to the intrepid national team of the Kingdom of Morocco and my congratulations to King Mohammed VI as well as to the Moroccan people," says Moussa Faki Mahamat.
In this connection, the King received phone calls from the President of the State of Palestine, Mahmoud Abbas, and the President of the Republic of Gabon, Ali Bongo Ondimba.
The Sovereign also received a phone call from Prince Hassan Ibn Talal of Jordan.
They all expressed in these calls their warm congratulations to the King following this historic achievement.
In Doha, the Emir of Qatar, Sheikh Tamim Ben Hamad al-Thani, celebrated with Moroccan fans the victories of the Atlas Lions.
In the match against Spain, as in Morocco's three previous matches in the World Cup, Sheikh Tamim celebrated the historic feat of Yassine Bounou's teammates, who qualified for the first time in history for the quarter-finals of the planetary high mass.
As commentators put it, the first World Cup held in an Arab nation has produced the Arab world's first quarterfinalist.