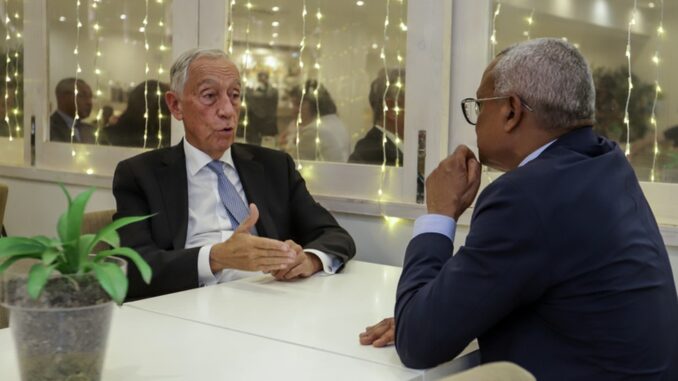 The presidencies of Portugal and Cape Verde will cooperate in areas managed by the civil houses and general secretariats, according to a protocol signed on December 10, in the city of Mindelo. The cooperation protocol was signed by the Presidents of Portugal, Marcelo Rebelo de Sousa, his Cape Verdean counterpart, José Maria Neves, the head of the Portuguese Civil House, Fernando Frutuoso de Melo, and the head of the Cape Verdean Civil House, Jorge Tolentino, as part of the Portuguese head of state's visit to the African country.
The document foresees the possibility of collaboration in the areas of operation of the two Presidencies, namely those managed by the Civil House and the general secretaries.
"It covers things such as the service of honorary orders, the protocol service, the documentation service, and the preparation of legal diplomas," said Fernando Frutuoso de Melo, in statements to the press, for whom the two institutions will also be able to exchange experiences and knowledge, enrich each other, and "function better.
He also said that this is a way to get closer between the two Presidencies, in what is the second protocol signed between the two institutions, after another one signed three years ago, but "not much could be done" because of the Covid-19 pandemic.
The Cape Verdean President, José Maria Neves, added that the agreement will allow the two institutions to develop actions in the areas of training and organization of advisory services.
"It is a cooperation agreement that will involve the staff of the two presidencies, Portuguese and Cape Verdean", emphasized Neves, also considering that Marcelo Rebelo de Sousa's visit will reinforce the friendship and cooperation relations between the two countries.
The Portuguese head of state completed Saturday the second of a three-day visit to Cape Verde, where the high point was the participation in the ceremony of honorary doctorate to Amílcar Cabral, awarded by Mindelo University.