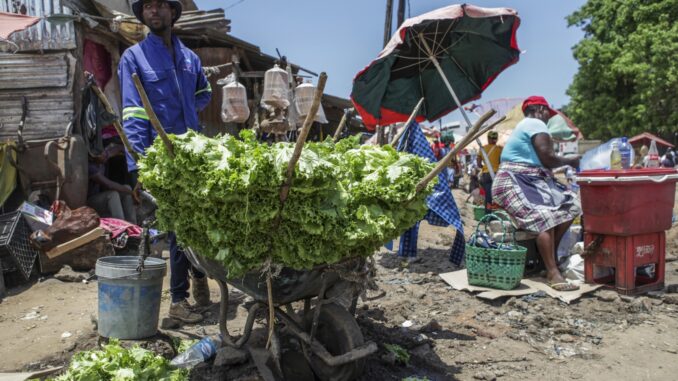 The cost of living in Maputo has forced Luisa to eat more vegetables, Ana to give up beef, Ismael to buy light in pieces, and Adelaide to remind Frelimo that they will need her in the next elections.
Selling for over 20 years in the Xipamanine market, one of the largest in Maputo, Luísa Timane tells that she has never witnessed a crisis like the current one, which has even changed her habits.
"We [my husband and I] were only able to buy vegetables for the house, now it's just buying vegetables and bread for the children," she reports, as she waits for customers at the open-air stall, where she sells potatoes and onions in bags.
She used to return home at 3:00 p.m., because the merchandise ran out early, but now she has to wait until around 6:00 p.m., because buyers want to haggle over the price and buy the ten-kilo sack of onions for 550 meticais (eight euros), the same price that Luísa Timane buys at the wholesale market in Zimpeto, Maputo, with no profit margin.
Ana Hobjana, who sells used clothing at Xipamanine, says she has eliminated meat from her purchases and buys little rice and corn flour, because accounts are tight.
"Everything is so expensive, I don't even put onions in my food anymore, everything is so expensive that we leave everything in God's hands," Hobjana emphasizes, letting slip his disbelief in the human power to change the situation.
Ismael Raul Mussá left Ilha de Moçambique, in the north of the country, for the capital, 15 years ago, in search of a better life, but he says that the situation only gets worse every day.
"With electricity of 200 meticais [about three euros], I don't even take three days, now I have to buy energy every day," because the state electricity company has raised the price of light, he says.
A few months ago, he used to buy 25 kilos of rice, but with the increase in the price of the product, he now buys 10 kilos for his family of five people.
At home they no longer drink soft drinks, and besides food, Ismael Raul Ali has to pay for the schooling of his three children.
The pace of price increases had been rising since February to reach 12.96% in August, in line with the overall inflationary trend, and then settled at 12.71% in September.
From September to October, the year-on-year inflation rate dropped less than a percentage point (88 basis points), but it was the first time this year that the Consumer Price Index (CPI) cooled for two consecutive months.
According to INE's data, accumulated inflation this year now stands at 8.8%.