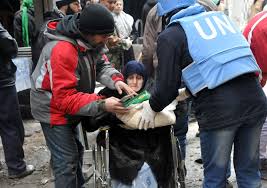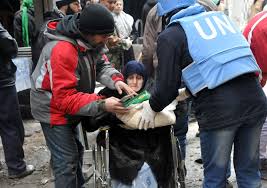 U.N. undersecretary for humanitarian relief, Valerie Amos, has presented her frustrations to the Security Council due to the obstacles she has to overcome in extending aid to Syrians in need. Government forces and the rebels are accused of obstructing the activities of the aid workers when they want to execute humanitarian activities. The Security Council has been battle ground between the permanent members who use their veto power to support their allies.
Valerie Amos accused the Assad government of imposing "arbitrary restrictions and obstructions, including bureaucratic procedures… where we deliver aid, to whom and how often" and added that "some opposition groups have also attacked, threatened and refused to cooperate with humanitarian workers." She didn't single out any opposition group. Approximately 10,8 million Syrians are in need of help according to Amos but these figures were questioned by the Syrian U.N Ambassador . The Syrian war has been going on for three years.
Syria's Ambassador to the UN, Bashar Ja'afari denied the allegations before highlighting that his "government is committed to its responsibilities in alleviating the humanitarian burden of our people. We are ready to take any measures to achieve that so long as they are in accordance with our national laws and sovereignty."
Amos described the acts of the various parties as "inhumane" and claimed that Damascus is determined to on controlling the work of the U.N. and its partners."
The opposition has not replied to its allegations made by Amos. Aid workers are often frustrated by these ordeals. They often spend a couple of hours negotiating at a crossing point.
But aid workers were frustrated at spending endless hours negotiating with Syrian authorities, who were also blocking shipment of medical supplies into rebel-held areas, Amos said.