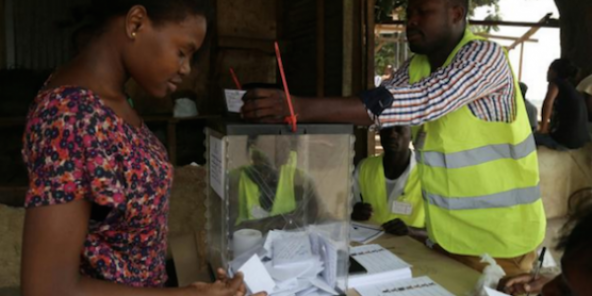 The Constitutional Court of São Tomé sent to the Public Prosecutor a request for enforcement of the fine of 15 thousand euros against the 19 candidates for the presidential elections of 2021, including the President, said a judicial source.
In May, the Constitutional Court (TC) fined 375,000 dobras (15,000 euros) to the 19 candidates for the presidential elections in September 2021, for failure to deliver campaign accounts, according to the electoral law, revised last year – which, in practice, made it mandatory, for the first time, to deliver accounts within 90 days after the proclamation of the official results.
According to the same source, the Constitutional ordered the execution, in August, for 17 of the former candidates, including the current head of state, Carlos Vila Nova, and the current ministers of National Defense, Jorge Amado, and Agriculture, Abel Bom Jesus. However, "so far there has been no information about the procedural processing by the Public Ministry," he indicated.
In August, the then president of the National Assembly, Delfim Neves – third place in the first round of the presidential race – who publicly agreed to the fine and the obligation to pay it, asked to do so in installments, which the court granted, determining that the payment be made in five monthly installments, without costs, of 75,000 dobras (about 3,000 euros), with the first due on August 31 and the last on December 31, 2022.
The TC also granted a similar request by another presidential candidate, Julio Silva, to pay the amount in ten installments.
According to the source of the TC, Delfim Neves paid only the first installment of the fine, while Júlio Silva did not make any payment, so the court referred to the Public Prosecutor's Office the process of enforcement against both.
The President of São Tomé and Príncipe, Carlos Vila Nova, has been contesting the fine. In June, he submitted a request to cancel the fine, along with eight other former presidential candidates, which was rejected by the TC, and, the following month, he said he had filed another appeal, considering that the matter was unclear.