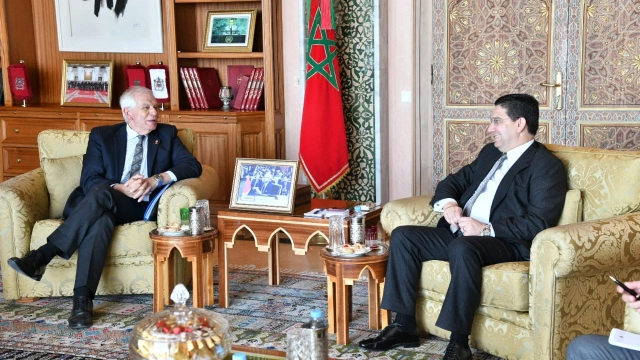 The High Representative of the European Union for Foreign Affairs and Security Policy, Josep Borrell, reiterated, Thursday, January 5, from Rabat, the position of the EU on the issue of the Sahara, saying the Union acknowledges and values the "serious and credible efforts" made by Morocco to find a solution to this regional dispute.
"We have taken note and we greatly value the serious and credible efforts made by Morocco to this end (finding a solution to the Moroccan Sahara issue)," Josep Borrell told the media after a meeting with Moroccan Foreign Minister Nasser Bourita. "The EU supports the UN process and the initiatives of the personal envoy of the UN Secretary-General aimed at reaching a political solution which is fair, realistic, pragmatic, lasting and mutually acceptable and which is based on compromise, in accordance with United Nations Security Council resolutions," he said.
The EU High Representative stated further that "the EU encourages all parties to continue their commitment in the spirit of realism and compromise in the context of an arrangement in accordance with the purposes and principles set out in the Charter of the United Nations."
The head of European diplomacy said he understands the fundamental importance of the Sahara issue, an "existential question" for the Kingdom.
At the joint news conference, the head of European diplomacy also announced two new initiatives to strengthen the EU-Morocco partnership.
These are a high-level dialogue on security that will be organized in Rabat soon, and enhanced cooperation in multilateral bodies between Morocco and the European Union. In this context, he said "multilateral international architecture must be reviewed," adding that the initiatives carried out by the countries of the North and the South have their place in this process of renewal.
Josep Borrell, who is on a two-day official visit to the Kingdom for an in-depth discussion on the implementation of the EU-Morocco partnership, including in the context of the new Mediterranean Agenda, also held talks with the head of government, Aziz Akhannouch. The two officials expressed the shared will of the two sides to deepen dialogue and enhance cooperation within the framework of their strategic partnership.
This historic partnership has continued to develop in recent years, becoming a benchmark in the EU's neighborhood policy.