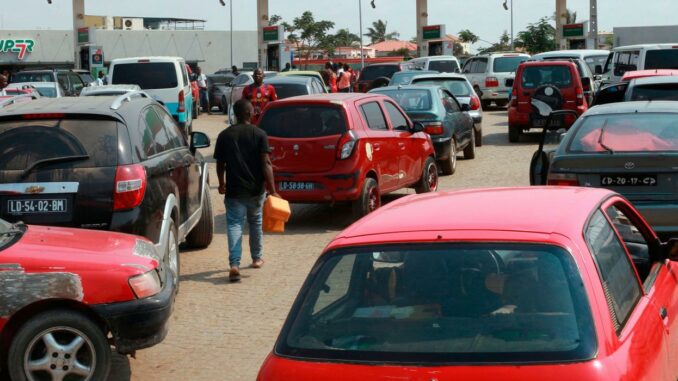 The president of the Industrial Association of Angola (AIA) was in favor of withdrawing state subsidies for fuel, considering that it is necessary to correct the prices, which even favor smuggling.
In statements to the press, José Severino admitted that this "is the old dilemma of the Angolan economy, which has been dragging on for dozens and dozens of years without having the courage, at some moments, to start adjusting this value".
The price per liter of fuel is higher than that of bottled water in many places, and this "is something that, paradoxically, should not continue to be part of our economy," José Severino stressed.
According to the president of AIA, in a set of 80 proposals made for this quinquennium at the level of the General State Budget (OGE), the fuel issue was pointed out because it is an "unfair" tax that benefits those who have more purchasing power.
The leader of the Angolan industrialists emphasized that the Angolan economy loses more than 200 million dollars (192.5 million euros) per year with the smuggling of fuels by keeping low prices.
"The most subsidized of all in the economy is the smuggler, so we have to have a position that is not solved with the police, who do what they can, but are not omnipresent, and the more police you have in this process, the more you are burdening the OGE," he stressed.
For José Severino, it is necessary to correct the prices, particularly of diesel, the most smuggled.
On this issue, analyzing the domestic economy, the president of AIA recognizes that there are still energy deficits, but argues that the country "can't be waiting to be perfect to "not assume that it is losing a lot of money" and that correcting the price of fuel could compensate sectors that have no energy, such as fertilizers, he exemplified.
This price increase will change the landscape of the cities, reducing road traffic. In Luanda, you don't call go, because many of our employees, including bank employees, could come in shared cars or go by bus, but they all come because they can and it is more comfortable in their cars. All of us, without exception, should be pushed on the rationality of fuel use," he noted.
For areas where there is no energy and industry depends on fuel consumption, the AIA advocates for an additional effort "for the government to put energy there," proposing that the executive accept public-private partnerships.