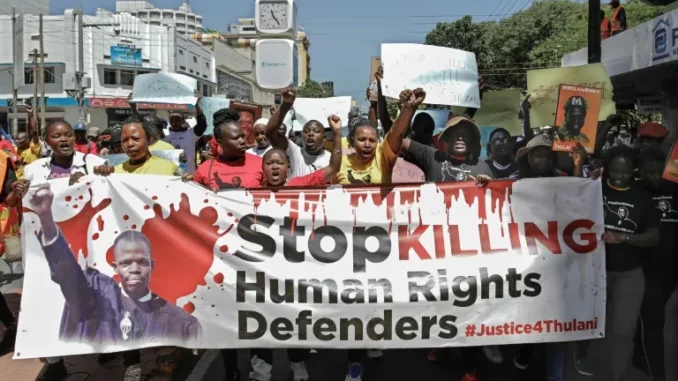 The Southern African Development Community (SADC) region on Tuesday warned of "escalating tensions" in the small landlocked kingdom of Eswatini, Africa's last absolute monarchy, where a respected lawyer and vocal opponent was recently murdered, sparking international outrage.
"Continued and sporadic violence has taken place in the kingdom of Eswatini, indicating an escalation of tensions," said Namibian President Hage Geingob, head of the Southern African Development Community's (SADC) Defence and Security Organ at an extraordinary meeting in the Namibian capital Windhoek.
Thulani Maseko, 52, was killed on the evening of 21 January at his home in Luhleko, about 50 kilometres from the capital Mbabane. He had spent much of his life fighting repression and defending opponents, and had served time in prison for criticising the regime.
These "regrettable" incidents came "at a time when the region is trying to help this neighbour find and implement peaceful solutions" to its problems, Geingob said.
The kingdom of Eswatini has been rocked since 2021 by a pro-democracy protest. In June 2021, at least 37 people were killed in violently suppressed anti-regime demonstrations. Limited protests and strikes have since continued sporadically.
Hours before Thulani Maseko's assassination, King Mswati III issued a public message to his opponents: "People should not complain if mercenaries kill them. These people started the violence first, but when the state cracks down on them for their actions, they make a lot of noise blaming King Mswati.
The UN and the US have called for an "impartial" investigation into the killing of the opposition leader. The European Union has expressed its concern.
Eswatini, a small poor country embedded in South African territory and formerly known as Swaziland, has been ruled by Mswati III since 1986. The ruler can dissolve parliament, the government and appoint or dismiss judges. He also commands the police and the army.
Political parties, theoretically allowed, cannot in fact participate in elections. The next general election is due this year. SADC comprises 16 countries. South African President Cyril Ramaphosa and Zambian Head of State Hakainde Hichilema were among those present at the meeting on Tuesday.