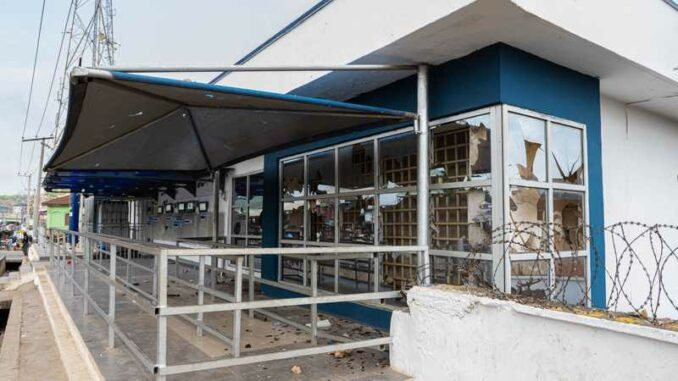 Abeokuta, in southwestern Nigeria, was the scene of scuffles between protesters and police on Tuesday, when a crowd of angry youths attacked a bank facing a shortage of banknotes, police and residents said.
With three weeks to go before the 25 February presidential election, social discontent is intensifying in Africa's most populous country (some 215 million inhabitants), which is paralysed by a shortage of new naira notes, further burdening Nigerians who are already facing numerous fuel shortages.
Queues at ATMs short of cash and petrol stations short of fuel are getting longer and longer, plunging the population into distress. In the Sapon area of Abeokuta, the Ogun State capital, "angry protesters looted a bank, destroyed an ATM before burning tyres on the road," said Seun Adeniyi, a photojournalist.
"The protesters attacked and chased the police with stones and sticks," Adeniyi said. Police deployed at the scene said riots broke out in Paseke, Asero and Sapon areas after some bank customers failed to withdraw their money.
Numerous videos posted on social networks show a crowd of angry youths attacking a bank and columns of black smoke from burning tyres. Another, reported in the local press, shows a protester covered in blood losing consciousness.
Residents said police fired shots to disperse protesters who were throwing iron bars and planks at them. The police deny having opened fire. In the face of growing social anger, state governor Dapo Abiodun on Tuesday called on "young people to remain calm and patient".
In October, the Central Bank announced, without warning, that it would change the banknotes (especially their colour) and decided that the old notes would no longer be valid at the end of January before postponing the date to 10 February, under popular pressure. Last week, several riots broke out in Nigeria, notably in Kano, the largest city in the north, and in Ibadan, a major city in the southwest.