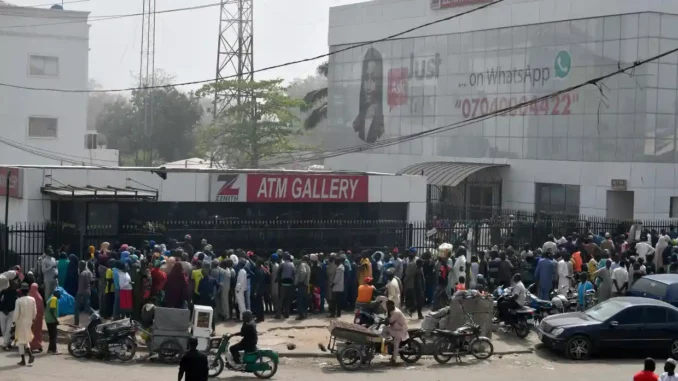 Angry crowds burned tires and blocked roads in Ibadan, a major city in southwestern Nigeria, on Wednesday to protest a shortage of banknotes that is crippling Africa's most populous country, police and residents said.
With 10 days to go before the presidential election, queues continue to grow at ATMs across the country, further burdening Nigerians already struggling with frequent fuel shortages.
In the past three weeks, riots have broken out in Ibadan, Abeokuta (southwest) and Kano, the largest city in the north, after the central bank's decision to replace the old naira bills with new, redesigned ones.
Police in Oyo State on Wednesday said protests broke out in some areas of Ibadan, the state capital, in the morning but were quickly brought under control. "There were protests this morning by some disgruntled bank customers," said spokesman Adewale Osifeso.
According to residents, the unrest started in several areas when these angry customers protested because they could not withdraw their money or could not change their old bills for new ones.
"The main roads were blocked, while banks, stores and other businesses were closed," said Remi Feyisipo, a local journalist. He said the protesters were also angry that shopkeepers and gas stations no longer accept the old bills.
In October, the Central Bank suddenly announced that it was changing the banknotes (including their color), and decided that the old bills would no longer be valid at the end of January. It then postponed the date to 10 February, in the face of shortages and popular pressure.
It is against this backdrop of social anger that more than 93 million voters are being called to the polls to elect a successor to President Muhammadu Buhari, who is ending his second term in office with a record of rampant insecurity, which has become almost universal, and a serious economic crisis.