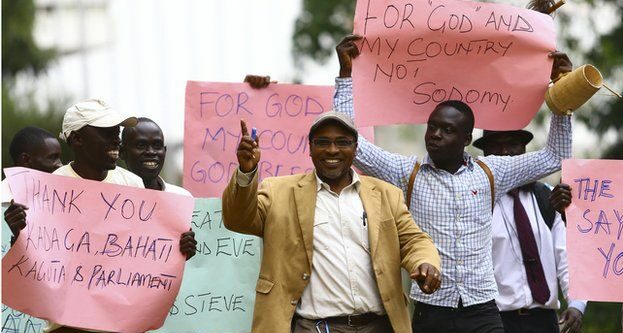 Uganda will consider a new anti-homosexuality bill on Wednesday, the speaker of Parliament said, while conspiracy theories on the subject abound on social networks.
According to an audio recording, Anita Annet Among said Tuesday at a religious gathering, "Tomorrow we will bring an anti-homosexuality law."
Ms. Among also posted a video of the meeting on Twitter, adding in a comment. "We must jealously protect our cherished values and culture." Same-sex relationships are illegal in Uganda – a legacy of colonial laws but since independence from the UK in 1962 there have been no convictions for consensual homosexual acts.
Western embassies and humanitarian agencies working in Uganda, which have repeatedly defended members of the LGBT community, are regularly accused of "promoting homosexuality" in the East African country.
In recent weeks, conspiracy theories have swirled on social networks, linking cases of child sexual abuse in boarding schools to homosexuality among adults. Last month, the government launched an investigation into alleged "promotion" of gay, lesbian and transgender rights in schools.
In 2014, a Ugandan court blocked a bill approved by members of parliament and signed by President Yoweri Museveni that sought to punish same-sex relationships with life in prison. The bill caused an outcry beyond Uganda's borders, with some wealthy countries suspending aid after it passed through parliament.