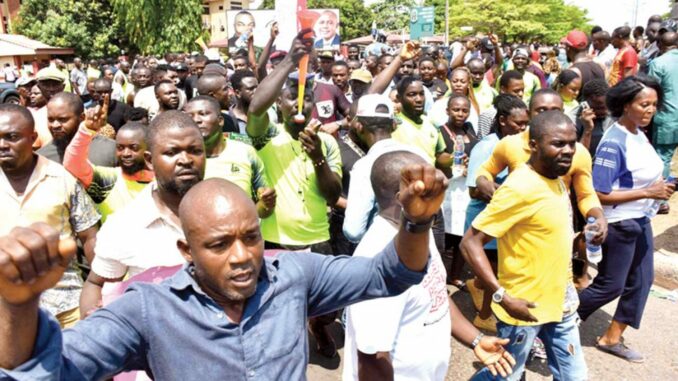 The ruling All Progressives Congress (APC) consolidated its lead with 15 governors' seats compared to eight for the People's Democratic Party (PDP). Another opposition party, the New Nigerian People's Party (NNPP), won the election in Kano State. Peter Obi's Labour Party, which had raised the hopes of the youth, has not been able to win in any region so far.
After failing to confirm its presidential results in Lagos, where its candidate failed to win against the incumbent governor, the Labour Party is still hoping to win in Abia State and perhaps in Enugu State.
But the electoral commission (INEC) announced on Monday that it was suspending the announcement of results in these two states in southeastern Nigeria, following attacks on its offices and requests for verification of certain counts.
This delay has angered all parties, who accuse each other of trying to manipulate the vote. In two other regions, Adamawa and Kebbi, the election, marked by irregularities, has so far been judged "inconclusive" by the INEC.
These setbacks and tensions did not prevent the president-elect, Bola Tinubu, from issuing a statement in which he said he was "particularly saddened" by the "physical and verbal attacks" that surrounded the local elections. "The elections are over (…) and we must now take steps to unite the people," he said.
These words have caused teeth to crumble in Nigeria, since the president-elect and the ruling APC are accused of having done everything to stir up inter-ethnic tensions in Lagos in particular. "Tinubu's statements are a hypocritical pack of lies," said Atiku Abubakar, leader of the PDP.
The U.S. Embassy in Nigeria, as well as European Union observers, reported violence, intimidation and vote suppression on election day, during which at least 21 people died, according to the EU mission.