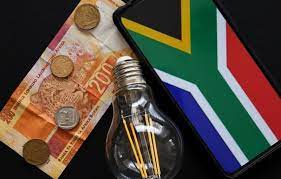 South Africa's growth is set to decelerate sharply this year due to power cuts and the economy risks stagnation, the International Monetary Fund warned.
The near-term growth outlook for Africa's most industrialized economy has deteriorated, an IMF team said after a visit to the country this week.
"South Africa's economic and social challenges are mounting, risking stagnation amid an unprecedented energy crisis, increasingly binding infrastructure and logistics bottlenecks…" the IMF team said in a statement.
"Real GDP growth is projected to decelerate sharply to 0.1 percent in 2023 mainly due to a significant increase in the intensity of power cuts, as well as the weaker commodity prices and external environment," it added.
In January, South Africa's central bank said it expected the economy to grow by 0.3 percent in 2023, down from 2.0 percent in 2022.
Gross Domestic Product (GDP) contracted by 1.3 percent in the last three months of 2022, raising the possibility that the South African economy could enter a technical recession if activity contracts in the first quarter of this year.
South Africa has been battered by record blackouts that have hampered economic activity over the past year, as problems at beleaguered power utility Eskom have mounted.
The outages are costing more that $50-million in lost output each day, according to estimates by the energy minister.
The government said it has taken note of the IMF team's findings.
"National Treasury is aware of most of the risks to economic growth and is working on mitigating measures to address these," the treasury said in a statement.