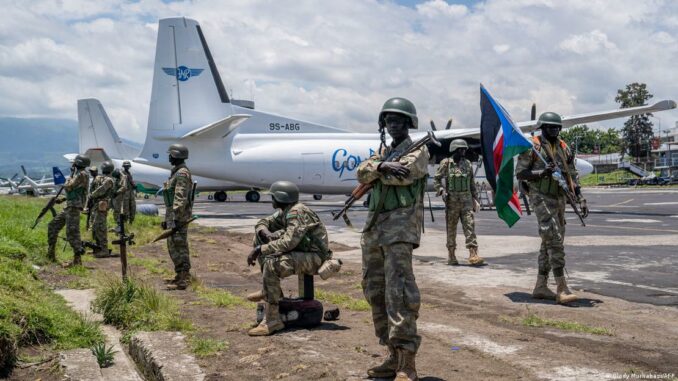 At least 45 soldiers landed in the city of Goma on Sunday, 2nd April. More contingents are expected to arrive.
South Sudanese soldiers are part of the military force of the seven-nation East African Community (EAC), created last June to stabilize the conflict in eastern Democratic Republic of Congo (DRC).
It is a region largely plagued by dozens of armed groups – a legacy of the regional wars that erupted in the 1990s and 2000s. In North Kivu province, M23 rebels have captured swaths of territory and advanced several dozen kilometers from its capital, Goma, since re-emerging in late 2021.
The EAC force – composed of Kenyan, Burundian, and Ugandan troops, as well as South Sudanese – is expected to oversee a planned withdrawal of M23 rebels.
"Welcome to Goma," said an EAC force officer, addressing the new arrivals from South Sudan. "You now find yourselves in a different operational environment – you need to be ready."
It is not yet clear how large the South Sudanese contingent will be, nor where it will be deployed. In December, South Sudan said it would send 750 troops to the DRC.
M23 first gained international prominence in 2012, when it captured Goma, before being expelled. But the Tutsi-led group resurfaced in late 2021, arguing that the government had ignored a promise to integrate its fighters into the army.
It then won a series of battles against the Congolese army and captured large parts of North Kivu, triggering a humanitarian crisis as hundreds of thousands fled its advance.