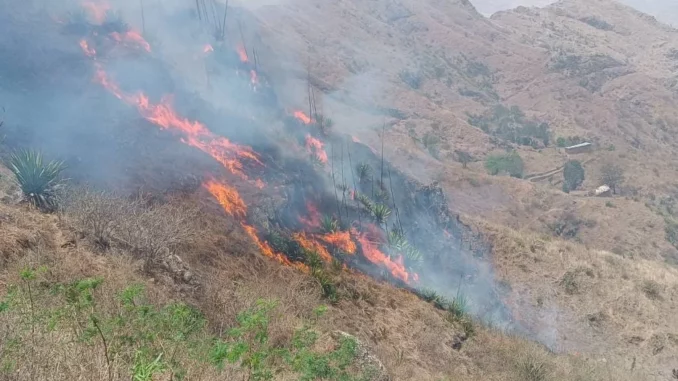 The Cape Verdean government has approved 35 million escudos (316,000 euros) for measures to recover from the fire that Saturday and Sunday destroyed 200 hectares in Serra da Malagueta and in which nine people died fighting the flames.
"The fire was superficial and covered only the herbaceous and shrub layer, exhausting all the existing pasture, putting the land at strong risk of erosion in the areas mentioned above. It destroyed some corrals, cattle and strongly affected biodiversity in the area (endemic plants and nesting places for endemic and protected birds)," reads the resolution approved on Tuesday by the Council of Ministers which approves this plan.
"Thanks to the weather conditions and the enormous effort of the firefighting team, the fire did not progress towards the densest forest stands and infrastructure in the interior part of the Serra da Malagueta Natural Park [PNSM], which would have been even more serious," it adds.
Given the "damage" and its "impact on the environment and the living conditions of families," the government believes that it becomes "very relevant the implementation of measures that allow the restoration of affected ecosystems and support for the restoration of agricultural activities," thus approving "measures for the recovery of areas and agricultural and livestock activities affected by forest fire in the PNSM and surrounding areas.
These measures involve support to families affected by the forest fire – 50 kilometers north of the city of Praia and that was fought by 260 operatives -, namely "in the recovery of corrals, replacement of animals and their feed", also in the "recovery of burned areas, by cleaning and removing burned material and invasive plants and building anti-erosion devices", with the "seeding of pasture and planting of endemic species", in the protection of endemic birds and their nests, with the "cleaning and maintenance / reconstruction of local roads and training and awareness on prevention measures against forest fires".
These measures are valid for 12 months and the resolution establishes that the criteria for allocating support to families affected by the forest fire and the specific list of beneficiaries will be the subject of an ordinance from the members of the government responsible for the areas of Agriculture and Environment and Family, Inclusion and Social Development.