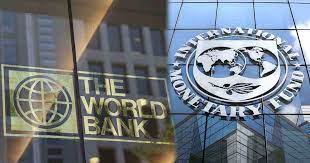 Several officials from the Central African Republic (CAR) have condemned the World Bank and the International Monetary Fund (IMF) for denying support to the poor African country due to its established ties with Russia.
President of the Economic and Social Council of the Central African Republic Alfred Tainga Poloko, said the World Bank has refused economic support to his country.
This came during a round table on cooperation between CAR and public institutions of Russia, organized by the Civic Chamber of the Russian Federation.
"The choice of full cooperation between the Russian Federation and the CAR, which our leaders made, cost us the loss of significant amounts of economic assistance that our past partners had previously allocated to us. Now, neither the International Monetary Fund nor the World Bank allocate more economic assistance to our country because of the choice we have made," Poloko said.
"Now you and I have to do everything necessary to strengthen our cooperation, work for the benefit of our societies and so that together we can come out of these challenges with our heads held high," Poloko added.
Earlier on, CAR Prime Minister Felix Moloua said in an interview with the Russian media Sputnik that the IMF refused economic support for his country because of Bangui's cooperation with Moscow.
CAR and Mali have stepped up their cooperation with Russia at the expense of former colonial power France. Russian paramilitary company Wagner, believed closed to Moscow, is present in the two countries.
West countries and the U.S. have slammed them and scaled down ties with both African countries.
CAR, Mali, and several other African countries have also refused to condemn Russia for its invasion of Ukraine – a move that has infuriate the U.S. and its western allies.
Russia and several African countries had close ties dating back to the Soviet era. The former URSS provided support for African countries in the fight for liberation.