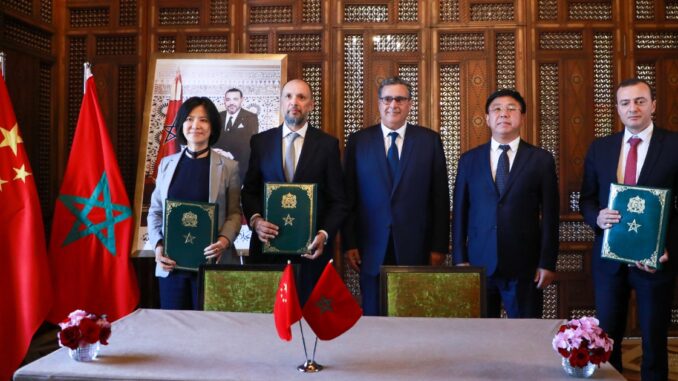 Morocco and China's Gotion High Tech signed a memorandum of understanding to set up a gigafactory for electric vehicle batteries near Rabat in an investment that would cost up to 6.5 billion dollars, the first of its kind in Africa.
The deal was signed by Morocco's investment minister Mohcin Jazouli and president of GOTION High-Tech Li Zhen in Marrakech.
The investment is planned to have an annual capacity of 100 gigawatt and would employ 25,000 people, Morocco's investment promotion agency AMDIE said in a statement.
Rich in phosphates and cobalt deposits, Morocco is poised to attract investments in the fields of electric batteries and environment-friendly vehicles as it pushes to achieve industrial sovereignty and expands high-tech manufacturing.
Promoting EV-related investments comes at a context the EU, Morocco's largest auto-industry market, prepares for a total shift to electric vehicles starting from 2035.
Morocco's growing automotive sector, which has topped Morocco's industrial exports with 10 billion dollars in 2022, should therefore prepare the ground for its transformation in line with the market's future requirements.
The country's mining sector could help make the transition easier by fostering Morocco's competitive edge. The availability of high-quality cobalt and phosphates could offer investors cost-effectiveness.
Morocco could also easily import lithium- another key metal for EV batteries- in view of its good commercial ties with exporting countries such as the DRC and Chile.
Morocco's largest mining company Managem is already operating a factory in Guemassa to produce sulfate cobalt as it also has prospects elsewhere in the country for cobalt and other rare metals.
Renault and BMW have already started sourcing cobalt from Managem's mines to supply their EV battery plants.
Morocco's cobalt enjoys high purity, unlike in the DRC where the metal is extracted as a byproduct of mostly copper.
In a recent report, Morocco's social and economic council (CESE) said the country had 7 of the world's 24 most strategic and rare metals, key to high-tech industries.