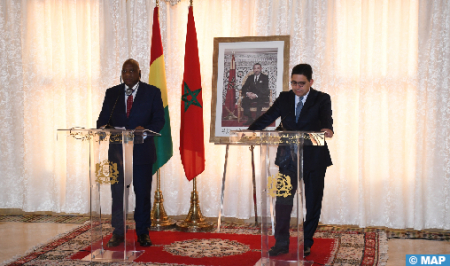 Morocco and Guinea reiterated, on Monday from the Saharan city of Dakhla, their shared desire to make their partnership relations a model of inter-African cooperation.
In a joint statement issued at the end of the 7th session of the Morocco-Guinea Joint Cooperation Commission, co-chaired by the two countries Foreign Ministers Nasser Bourita and Morissanda Kouyaté, the two parties underlined the interest shown by King Mohammed VI and Colonel Mamadi Doumbouya in the development of economic relations between the two brotherly countries, as part of a new partnership strategy and their shared willingness to contribute to the preservation of peace and stability on the African continent.
The two sides hailed the sustained pace of their mutually beneficial and fruitful cooperation, as well as the prospects for diversifying and consolidating this partnership in promising sectors such as training, agriculture, food security, sea fishing, hydraulics, health, energy, port management and mining.
Bourita expressed the Kingdom's readiness to contribute to Guinea's socio-economic development efforts, particularly in priority sectors such as security, fisheries, health, social development, agriculture, vocational training, water and energy.
The two parties also reaffirmed their shared desire to develop an ambitious Public-Private Partnership (PPP) that would be mutually beneficial for both countries, to serve as a model for South-South cooperation on the continent.
During their talks, Bourita underlined the positive momentum generated by Kouyaté's visit to Rabat on May 09, and expressed Morocco's full readiness to continue working to give renewed impetus to this momentum of cooperation and solidarity.
He also reiterated the thanks and gratitude of the Government of Morocco for Guinea's unconditional support, as demonstrated by the positions it has taken in various regional and international bodies, the joint statement noted, adding that the two parties have agreed, to this end, to support, in a concerted and mutual manner, the Moroccan and Guinean bids at the level of these bodies.
The two parties also noted with satisfaction their convergence of views on various regional and international issues of common interest, while reiterating their determination to take part in efforts to settle disputes in Africa, the joint statement underlined.
The Moroccan-Guinean joint cooperation commission highlighted by the signing of 8 agreements and conventions including a security cooperation deal, meant to strengthen cooperation mechanisms so that both countries can act jointly against terrorism and other forms of transnational crimes – including drug trafficking and irregular migration.
The other agreements cover international road transport of passengers and goods; realization of projects in the field of hydrocarbons; metrology, accreditation and consumer protection; cooperation and exchange of information on the process of developing standards, the implementation of measures likely to promote mutual recognition of certificates of conformity to internal and international standards; promotion of cultural, scientific, technical and socio-economic cooperation; and vocational training.
The Moroccan Agency for International Cooperation (AMCI) provides Guinea with an annual quota of 180 scholarships in the academic and technical fields.
The two parties agreed to hold the eighth session of the Morocco-Guinea Joint Cooperation Commission in Conakry, on a date to be decided by mutual diplomatic agreement.