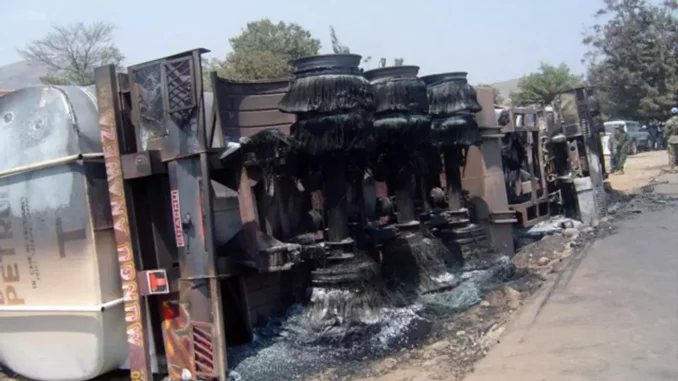 Around twenty trucks have been set on fire in South Africa in recent days, the police announced on Wednesday, in a mysterious series that is causing concern and has been described as "economic sabotage" by President Cyril Ramaphosa.
Unknown assailants set fire to four trucks in the north-eastern province of Mpumalanga on Wednesday, the latest in a series of similar incidents that are causing concern among transport professionals and business circles.
"We know that these are not isolated criminal acts, but something organised", said Police Minister Bheki Cele at a press conference in Pretoria. "Intelligence suggests that the attacks on the trucks are linked to business", he said, adding that the investigation was continuing. Around 80% of all goods are transported by truck in South Africa, according to the South African trade union SATAWU.
South Africa is a major exporter of minerals and agricultural products. Goods and raw materials produced in other African countries pass through its ports on their way to Europe, Asia and the United States.
The fires started on Sunday, the second anniversary of the July 2021 riots that began with the burning of trucks and plunged the country into the worst violence since the end of apartheid in 1994. However, there is currently no evidence to link the recent arson attacks to the deadly unrest of 2021, which left more than 350 people dead, according to Cele. The truck attacks took place in three provinces on some of the country's main roads.
Drivers were forced out of their vehicles at gunpoint by assailants who then set fire to the trucks, said SATAWU Secretary General Jack Mazibuko. Speaking on Sunday after the first incident, President Ramaphosa expressed concern about the potential "negative impact" of these fires on the economy. "This is almost economic sabotage", he told local media.
South African truckers have complained in the past about the recruitment of foreign drivers. A nationwide protest in 2019 sparked a wave of xenophobic violence that left five people dead. No arrests have been made so far after this series of fires, police added.