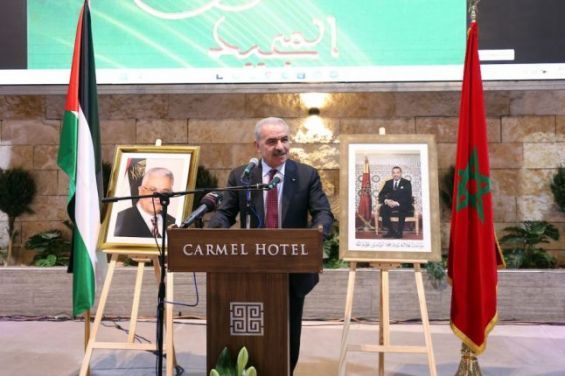 Day Palestinian Prime Minister Mohammad Shtayyeh said, Sunday in Ramallah, that the Speech addressed by King Mohammed VI to the Nation on Throne Day confirms the "distinguished" relations, "anchored in history", between Morocco and Palestine.
"We appreciate what His Majesty the King affirmed" in his speech regarding the "support for the Palestinian cause and the legitimate rights of the Palestinian people to establish their independent state with Al-Quds as its capital," Shtayyeh said in an address delivered during a function organized by the Kingdom's embassy in Palestine on the occasion of Throne Day.
The Palestinian Prime Minister added that "this position embodies the strong solidarity between the two peoples and commitment to the issues of the Arab Nation, and the distinguished relationship between Palestine and Morocco, which is anchored in history."
Shtayyeh also commended Morocco's endeavors in Al-quds, saying that "Morocco was an important partner in supporting the Palestinians in the city of Al-Quds and providing them with assistance in facing the existing challenges. This reflects Morocco's full solidarity with the city of Al-Quds and its interest in supporting the Maqdessis," he said.
Shtayyeh, on behalf of the Palestinian President Mahmoud Abbas and that of the Palestinian Council of Ministers, expressed congratulations to "our people in brotherly Morocco on this special day in its history," wishing health and wellness to King Mohammed VI and continued progress and prosperity to the Moroccan people.