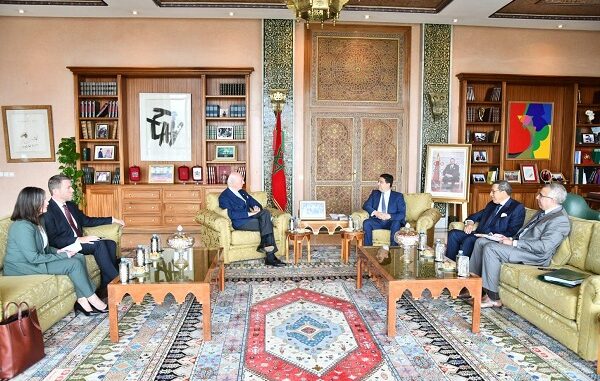 UN Secretary General's Personal Envoy for the Sahara Staffan De Mistura held talks Friday in Rabat with Foreign Minister Staffan de Mistura in the presence of Morocco's Permanent Representative to the UN, Omar Hilal.
De Mistura's trip to the Kingdom is part of a visit to the region with a view to relaunching the round-table political process with the participation of Morocco, Algeria, Mauritania and the polisario, in accordance with UN Security Council resolutions, notably resolution 2654, adopted on October 27, 2022, says a statement by the Foreign Ministry.
During the talks, the Moroccan delegation recalled the constants of Morocco's position, as reaffirmed by King Mohammed VI, in the Royal Speech delivered on the occasion of the 47th anniversary of the Green March, on November 6, 2022, advocating "a political solution, based exclusively on the Moroccan Autonomy Initiative, within the framework of the Kingdom's national sovereignty and territorial integrity," the statement adds.
Earlier this week, De Mistura had visited Laayoune and Dakhla, where he held a series of meetings with elected officials, chioukhs, local notables and economic operators. He also met with representatives of civil society, young people, and women.
All these interlocutors informed the Personal Envoy about the economic and social boom and the political and democratic dynamic that the two regions of the Moroccan Sahara are experiencing.
The UN Secretary-General's Personal Envoy for the Moroccan Sahara also visited socio-economic investment and infrastructure projects, and witnessed first-hand the progress made in implementing the New Development Model for the Southern Provinces, launched in 2015 by King Mohammed VI.
According to reliable sources quoted by news outlet Le360, the UN Envoy for the Sahara plans to meet with several ambassadors accredited in Morocco, especially those from the member countries of the United Nations Security Council.
In addition to Staffan de Mistura, the meeting is expected to bring together Puneet Talwar, the Ambassador of the United States to Morocco, as well as the heads or representatives of the diplomatic missions of France, the United Kingdom, Russia, and China. Other foreign ambassadors accredited in Morocco have also been invited to join this meeting, aimed at informing them about his visit to the Kingdom.