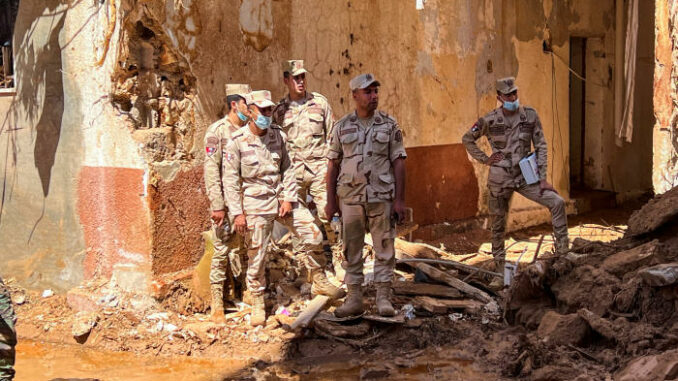 The death toll in Libya's coastal city of Derna has soared to 11,300 as search efforts continue following a massive flood fed by the breaching of two dams in heavy rains, the Libyan Red Crescent said Thursday.
Marie el-Drese, the secretary-general of the International Organization for Migration (IOM), said a further 10,100 people are reported missing in the Mediterranean city. Health authorities previously put the death toll in Derna at 5,500. The storm also killed about 170 people elsewhere in the country.
Mediterranean storm Daniel caused deadly flooding in communities across eastern Libya, but the worst-hit was Derna, as two dams outside the city collapsed and flooding swept away entire families on Sunday night and exposed vulnerabilities in the oil-rich country that has been mired in conflict since a 2011 uprising that toppled long-ruling dictator Moammar Gadhafi.
Entire neighborhoods submerged in water and mud, landslides, enormous destruction. On Wednesday, the Libyan coastal city of Derna presented an apocalyptic landscape after devastating floods that left thousands dead and thousands missing.
The death toll continues on Thursday September 14 to climb in this city on the Mediterranean coast of eastern Libya.
At least 30,000 people living in this city of 100,000 inhabitants have been displaced, according to the International Organization for Migration (IOM), which put the death toll in Derna at 11,300, specifying however that the exact number of victims of the disaster remains uncertain, given the large number of missing persons.
As early as Tuesday, bodies began to be washed up by the sea, which had turned as brown as the mud.
The city is now only accessible via two entrances to the south (out of the usual seven), and widespread power outages and disruptions to the telecommunications network are limiting communications, according to the IOM. In addition to Derna, 3,000 people have been displaced in al-Bayda and over 2,000 in Benghazi, other towns located further west.