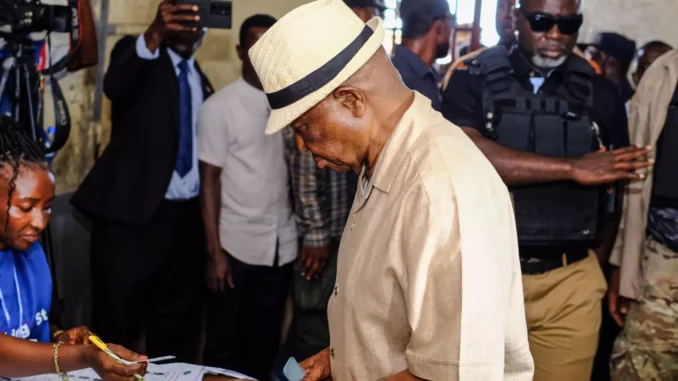 Liberia's incumbent President, George Weah, conceded defeat to opponent Joseph Boakai on Friday November 17 evening in Tuesday's presidential election, as the country awaits the publication of the full election results.
"Tonight, the CDC (Mr. Weah's party) has lost the election, but Liberia has won. It's time for elegance in victory," said Mr. Weah, a former soccer star elected in 2017, in a speech on public radio.
"The results announced tonight, although not final, indicate that Mr. Boakai has a lead that we cannot catch up with. I have spoken to President-elect Joseph Boakai to congratulate him on his victory," Weah said.
The results published on Friday by the electoral commission, after voting in over 99% of polling stations, gave 50.89% to Mr. Boakai, 78, and 49.11% to Mr. Weah.
Mr. Boakai enjoyed a lead of just over 28,000 votes after some 1.6 million ballots had been counted. Some 2.4 million Liberians were expected to vote on Tuesday, but no indication of turnout had yet been given. Dozens of Mr. Boakai's supporters celebrated the results by dancing in front of one of his party's offices in Monrovia's Fiama district.
The latest and nearly complete results on Saturday showed Boakai leading with nearly 51 percent of the votes in Liberia, Africa's oldest republic, which was founded by freed American slaves.